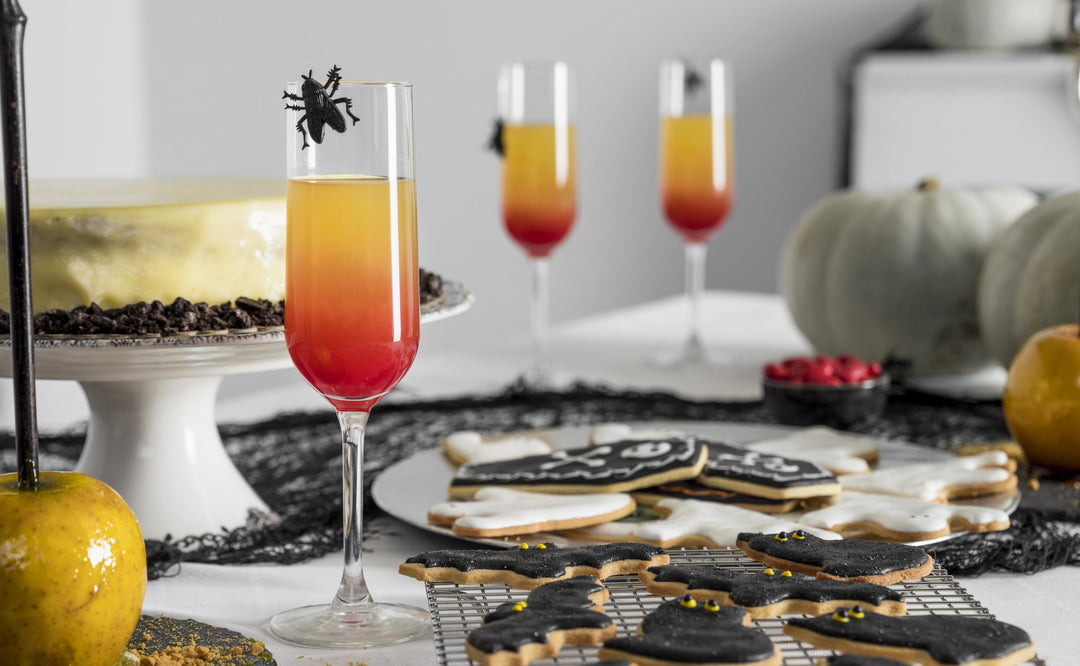 Posted on
---
Get ready to shake up some spooky drinks using some spine-chilling Halloween cocktail ingredients! As the nights grow longer, there's no better way to celebrate this hauntingly delightful holiday than by concocting some bewitching and enchanting cocktails. Whether you're hosting a Halloween party or simply sipping by the bonfire with family or friends, our handpicked ingredients and ideas are sure to send chills down your spine while enticing your taste buds!

So, grab your witch's hat, gather your cauldron, and let's explore the exciting ingredients that will make your Halloween cocktails a potion-worthy drink!
Activated Charcoal
Want to achieve that spooky, mysterious color to your cocktail? Try using small amounts of activated charcoal, perfect for something dark and eerie! What makes it exceptional is its complete lack of flavor and its ability to seamlessly blend without altering the cocktail's taste and texture, ensuring it only influences the drink's visual aspect. Ensure you purchase FDA-approved varieties and use them sparingly, as even a small quantity goes a long, long way. 
Other black substitutes are black food coloring, black currant juice, and ground sesame seeds.
Grenadine
Since most of the Halloween cocktails focuses on the visuals and gimmicks, using Grenadine on your creation will definitely do the trick. You can even use it on your garnish like a blood for its thick syrup! It's mainly use not just to add sweetness but for it's red hue as it blends so easily with other liquids.

Here are some cocktails that you might want to try:
Dracula's Kiss
Blood Halloween Punch
Red Death Cocktail
Midori
If you want to go for a toxic and radioactive visual, Midori is the way to go! Its bright green hue will bring out the best-looking green cocktail in your bar counter Halloween setup! Another win is that it's made out of melons, so when you use it, you not only get that bright and radiant green glow but incorporate a tasty and fresh melon flavor in your drink!

Some cocktails you can craft for your Halloween cocktail night:
Witches Brew Halloween Cocktail
The Frankenstein Drink
Poison Apple Halloween Cocktail
Eyeball garnish
Add some ghoulish garnish to your cocktail for a spooky, fun, and added texture in your overall presentation! Use some Lychee and insert some raspberry jam and blueberry to depict the pupil. You can also use a black olive as an alternative or some marshmallow and blueberry poked in the center. Paint your veins with some grenadine syrup or red food dye, then skew in a cocktail pick or toothpick!
Edible glitter/luster dust

To achieve that enchanting, shimmery look, luster dust or edible glitter usually do the trick. If you like baking and cake decoration, you definitely have some of it stored in your kitchen! Just like charcoal, it does not affect the taste and just blends with the mixture. You can use the glitter that coordinates with your cocktail mixture's color to enhance the aesthetics and use it only in small amounts, as a little goes a long way. This is an extra fun added to get that magically mysterious look for your cocktail!

We've curated some sparkly and shimmery enchanting cocktails for you to shake and taste:
The Witch's Heart
Poison Apple Cocktail
Shimmery Purple Bat Cocktail
Marshmallow spider web
Cob webs is one of the elements for a spooktacular Halloween aesthetic and we know a delicious way to make it! All yo need to grab is some white marshmallows and a microwave safe bowl. Heat some marshmallows in the microwave for thirty seconds, stir until set aside to cool slightly. Using your thumb and forefinger pick some of the melted marshmallows and pull it to achieve that stretchy texture. Lay it on cakes or drinks to mimic a cob web.
Dry Ice
What is a better way to incorporate smoke into your drinks and bar setup than using dry ice? Instead of lighting a fire and risking your precious liquors from burning, dry ice has your back. It does require some special handling to avoid frostbite, so being extra careful is necessary. Grab a pair of cloth gloves, a flathead screwdriver, a hammer, and a set of safety glasses for your eyes. Tap carefully on the block to get your desired pieces and size.
The ideal size for cocktails is one by one inch. This size will last a good 5 minutes of smoking and bubbling when dropped in a glass of cocktail. Remind your guests not to consume the ice for their safety.

Try some of these cocktails with dry ice:
Bloody Pomegranate Cosmopolitan
Swamp Gasses
Halloween Cherry Vodka Cocktail
Crafting the perfect Spooky cocktail is about creative balance, flavor selection, and a dash of eeriness. By combining a variety of liquors, sweeteners, and garnishes, you can create a drink that not only excites the taste buds but also adds a festive touch to your Halloween celebration. 
So, as you embark on your quest to mix and shake this Halloween, remember that the key to a memorable celebration lies in the careful selection of ingredients that evoke the true spirit of the season and bring out the magic of mixology.
Cheers to a spine-tingling and taste-bud-enchanting Halloween celebration!
POLICIES & WARRANTY
CELLULAR CONTACT
SMS Text Message:
+1 (845) 498-1395
(cannot accept phone calls)