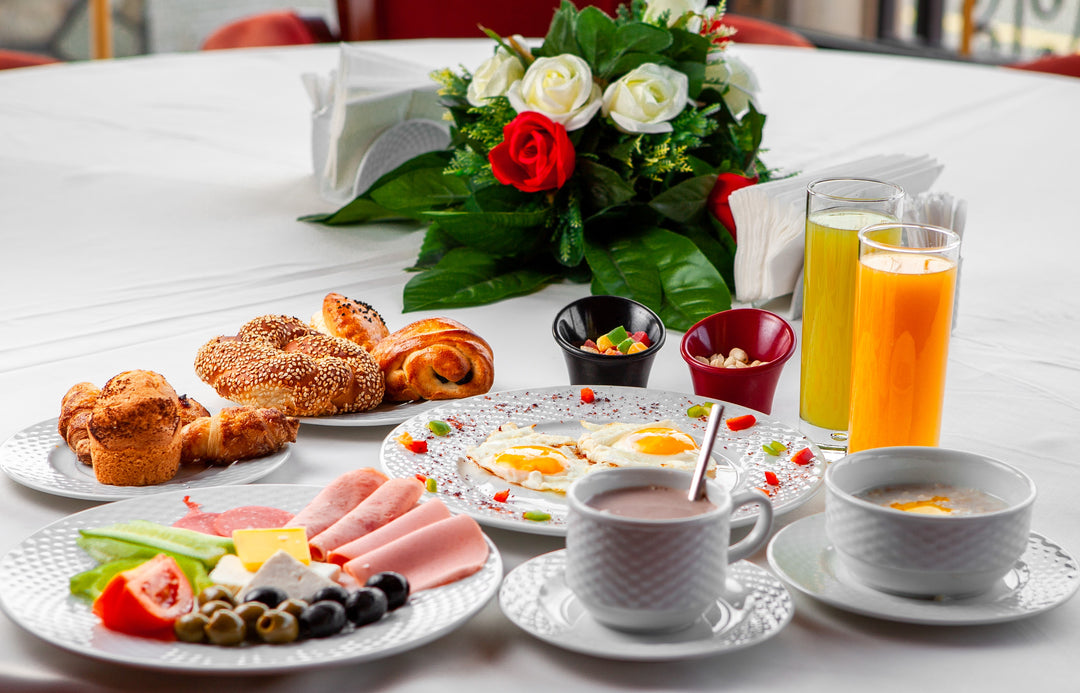 Posted on
---
Brunch and cocktail drinking is the perfect way to kick off a lazy Sunday morning or celebrate a special occasion with friends and family. There's nothing quite like sipping on a refreshing drink while enjoying a tasty brunch spread and cocktails that take the experience to a whole new level. From the classic Bloody Mary to the trendy Aperol Spritz, there's a brunch cocktail to suit your every taste and mood. 
So, whether it is to cure hunger and hangover or just indulge in some sophisticated Sunday meal, It's the perfect article for you to discover more about Brunch, talks, and the perfect drink pairing to your food to elevate your brunch experience!
WHAT IS "BRUNCH," AND WHERE DID IT COME FROM?
Brunch is a blend word of "Breakfast" and "Lunch," which usually takes place between 10 in the morning to 2 in the afternoon. It's typically associated with weekends, especially Sundays because many believed that it came from England's Hunt Breakfast, where they feast on lavish meals after a hunt. Others link it to the tradition of Catholic pre-mass fasting, where they would enjoy massive midday meals after. 
This term first appeared in the 1895 Hunter's Weekly article "Brunch: A Plea," written by British author Guy Beringer. It was a suggested alternative to post-church Sunday meals allowing for a lighter and less stressful meal that favors extended Saturday activities. The idea, of course, benefits the struggle of Sunday hangovers from the last night's happening. He even suggests swapping traditional beverages for alcoholic drinks during the meal." Contrary to breakfast, brunch is cheerful, sociable, and inciting," Beringer writes. 
THE SPREAD
In the 1930s, brunch culture reached the United States. It was initially introduced in Chicago at the halfway point of the then-Transcontinental train Trip from New York to California. It was post-World War II when many celebrities and churchgoers would stop for a late-morning meal and allowed them to rest and sleep after a long journey. Since most of the restaurants during Sundays are closed, the Brunch was offered at Hotels, giving it a luxurious and sophisticated feel.

Soon enough, restaurants slowly hopped in the trend and started offering spreads and morning cocktails to switch the usual orange juice to mimosas and bloody marys. It continued to spread throughout the US and eventually reached other continents. It even became a part of pop culture as a social dining-out experience in the late 90s. 
BRUNCH AND WOMEN
During World War II, when men were away, and women were left to tend to the family, many plants and factories opened opportunities for women to work. And even after the war, many still entered the workforce allowing women to work outside their homes with compensation. This made the phenomenon become part of the Sunday culture since it allows women to take a break from cooking when at home, push the meal in between breakfast and lunch, or go out for a late-morning family meal.
The trend lives on and even became more convenient these days. Despite today being chaotic and fast-paced, its primary objective still remains- "to serve a light, cheerful and stress-free late-morning spread."
BRUNCH COCKTAILS
Drinking during brunch became undeniably inevitable, especially due to the fact that its history suggested it too. Since it became a special occasion just to chill and be lazy, brunch is the perfect time to relax and indulge in a tasty drink, plus the cocktails aren't that difficult to prepare. Most of them require two to three ingredients and only need mixing and stirring, and voila! You got yourself a delicious brunch cocktail.
But how did Mimosas and Bloody Marys become the staple brunch drinks?
Mimosas, also called "Buck's fizz," was said to have been created by Frank Meier, a bartender at the Ritz Bar in Paris, in 1925. The Champaigne-Orage juice drink became even more popular thanks to the British Royal family in the late 1960s. Its light and sweet flavor is perfect for serving as a pre-brunch drink or during the meal. 
Tomato soup isn't technically served during breakfast or lunch, but due to health reasons, Bloody Mary made its way to every menu in the 1890s. Alcohol, later on was added around 1917 and was developed by an American-born chef Louis Perrin. The mixture of spices and sauces is the just right kick of a light yet healthy and tasty drink that one can enjoy during a lazy Sunday eat-out.  
BRUNCH COCKTAIL PAIRINGS
Indulging in cocktails while consuming brunch is indeed a match made in heaven. The idea is to make the meals and experience even lighter and improves the experience and mood of the overall dining activity. 
For food that is a bit heavy, like breakfast casserole or Quiche, a light and a bubbly cocktail is perfect, like Mimosa and Bellini. Pancakes and waffles would complement better with sweet and fruity flavors as well. Savory foods go perfectly well with savory cocktails, too, like Bloody Mary or Mexican Mechilada. Their spicy notes balance the hearty and savory attributes of the food, like sandwiches and eggs benedict.
The possibilities are endless, and with the right cocktail pairing, the brunch experience will surely be something you will look forward to every weekend!
BRUNCH COCKTAIL RECIPES
We curated some popular Brunch cocktails that you can try at home and hopefully will elevate your brunch experience with your family and friends.
Brunch and cocktails are the perfect pairings for a relaxing weekend morning. They bring together the best of both worlds, making us enjoy delicious breakfast dishes and refreshing drinks, all while spending quality time with family and friends.
It allows us to savor the moment and enjoy good company and conversation in a very laid-back and comfortable setting. So the next time you're looking for a way to unwind and indulge, consider brunch and cocktails – they're a guaranteed recipe for a fun and great time!
POLICIES & WARRANTY
CELLULAR CONTACT
SMS Text Message:
+1 (845) 498-1395
(cannot accept phone calls)