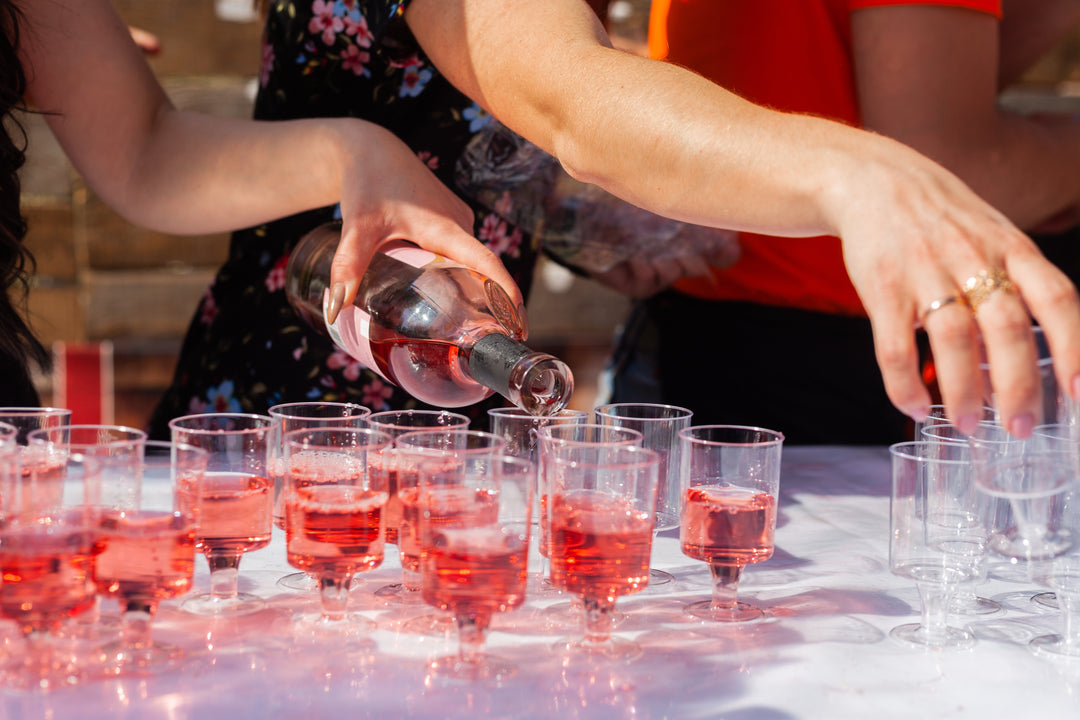 Posted on
---
Whether you're hosting a small event for friends or a large get-together, we have gathered some useful tips and tricks to make your party a memorable one. From fresh and creative cocktail recipes to impressive party favors, we'll show you how to add your touch of originality to your party. So grab a pen and paper, sit back while sipping your drink, and let's start planning your ultimate cocktail fest!
Cocktail parties are a great way to entertain friends and family, but sometimes it can be difficult to come up with new and exciting ideas to make your event stand out. Whether you're hosting a small gathering or a large celebration, there are plenty of creative ways to elevate your cocktail party and make it an unforgettable experience.
Plan Your theme
Themes that exhibit the past or historical events are a hit nowadays, as it brings back memories and feels through incorporating them into your cocktail party! Some themes that you can use are The Great Gatsby, Speakeasy, mixology class party, and Funky 70s Disco! 
The possibilities are endless if you want a retro party with a modern twist or want to play it cool and simple yet fun.
Allocate your time and budget
It's always wise to allocate a budget and time for your party! The amount of time you think will take in planning, from searching for the best and sustainable decorations and materials to use during the party, to planning out and crafting the most creative invitations and even creating your menu and purchasing all ingredients, would help a lot in the management of the entire planning and preparation process. No time and money wasted!
Craft your Cocktail Menu
A lineup of crowd-pleasing cocktails on your menu will keep your party going! Try putting together some classic and modern drinks on your menu to ensure that your guests have a wide range of choices. Incorporating in-season ingredients like fruits and serving your drinks in creative crystal wares and garnish can help the party's overall aesthetics and mood.
Make sure also to include non-alcoholic drinks like mocktails to accommodate all guests' preferences. But of course, don't forget to have some water or sparkling water with fresh fruits like cucumber and lemon ready to serve!
Create your signature cocktail for your party
Come up with a unique signature cocktail that will surely stand out among the rest! You can start by matching some of your ingredients to your cocktail party theme. Then try infusing some modern twist or your own touch to make it even more special, like naming it after your party or you! Make it memorable that your guests will surely adore and crave for the next time you host another party.
Graze and Cocktails
Finger foods, grazing board with cold cuts, cheese, fruits, and nuts, are the best for a cocktail party as they are easily served and easy to consume. If you are trying to craft your food menu, try going for bite-sized foods and choose the ones that are best paired with your cocktail menu to elevate your guests' drinking experience even more. Impress your guests with your creative take on charcuterie and dip boards!
Not only will it enhance the drink's flavor, but it will also be interactive for guests who are both knowledgeable and new to cocktails. Let them choose what to drink and select the best food pairing on the table. 
Incorporate some games
Add some fun by incorporating games to break the ice and energize your guests. Consider your guests' age, game preferences, and the number of people attending your party. It's nice to put something personal to make it even more exciting and interactive. Try doing some Adult trivia questions related to cocktails or interactive card games that will spark your guests' curiosity. A dance contest or karaoke is also a fun and creative way to keep your guests excited and entertained. The list is endless for you to choose from!
Set up a mixology bar (for DIY cocktails)
A great addition to your cocktail party is a fully stocked bar where guests can mix their own cocktail drink and explore different flavors available in your DIY bar! Set up at least three selections of spirits and some soda and carbonated water. Pick fresh fruits and cordials to brighten the flavors and prepare creative and edible garnish on cocktail picks. 
And to elevate the mixology fun, bring out some of your Bartending tools so your guests can have the full mixology experience! Allow your guests to craft their own cocktails and shake them up like a pro!
Hire a Mobile Bartender
Having a mobile bartender around will definitely take your cocktail party to the next level. Everything will be done quickly and precisely without compromising the drinks' quality. Plus, you can always count on your guests having fun and being more entertained with a little flairtending here and there. A bartender can customize your guests' drinking experience based on your theme and your guests' needs. They will ensure no all ingredients are available and can even do a little mixology class if you wish to include that in your party!
Live entertainment
Hire a live band or some stand-up comedian to raise the hype and humor the crowd during your cocktail party. Try to match your theme with the kind of entertainment you have by incorporating it most unexpectedly, like singers disguised as waiters or flash mob dancers dressed as normal guests. There are many ways to get creative, and though it's another thing to think about, it is always worth it in the end.
Souvenirs and Giveaways
Top off your cocktail party by devising some party favors ideas to make the event more memorable! Make the most out of the moments by hiring a photographer or renting a photo booth. You can also go for fun and in-theme souvenirs like a cocktail recipe book, liquor samplers, or some helpful tools like a salt-rimmer, metal straws, or a personalized jigger for the event.
Whether you choose to follow a specific theme, incorporate interactive ideas, or experiment with unique and fresh drink recipes, there are countless ways to make your event extra special. With some creativity and careful planning, you can create a momentous experience for your guests and leave them impressed and delighted. 
So, wear your thinking cap, let your creativity flow, and make your cocktail party an event that you will never forget!
POLICIES & WARRANTY
CELLULAR CONTACT
SMS Text Message:
+1 (845) 498-1395
(cannot accept phone calls)