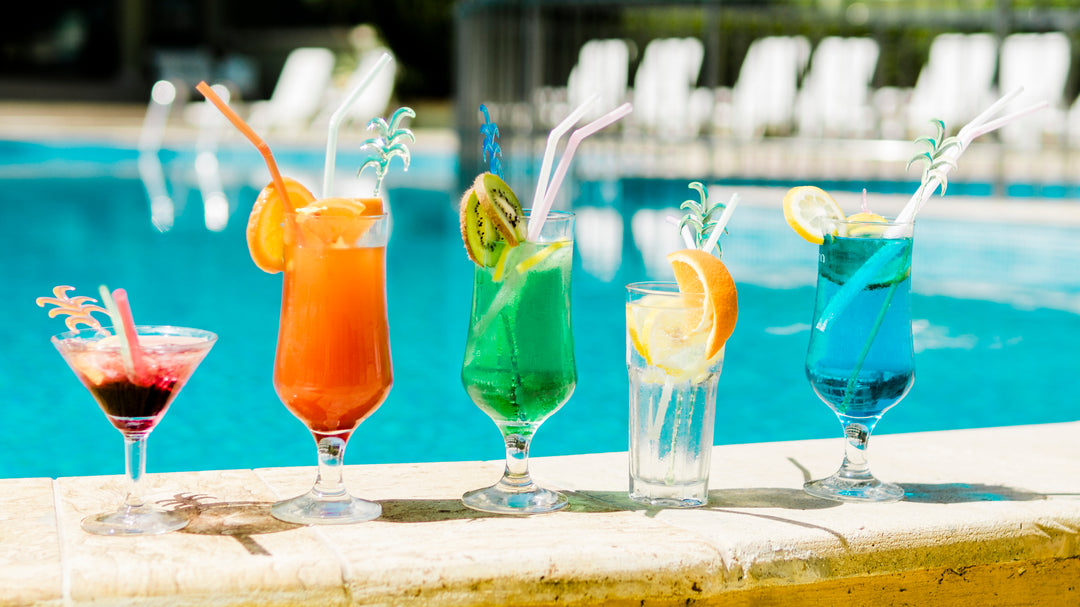 Posted on
---
Nothing beats the reviving taste of a tropical summer-flavored cocktail as the temperatures rise and the sun beats down. From the sweet and tangy notes of mango and oranges to the bold and vibrant flavors of Passion fruit and Guava, these drinks are the perfect way to quench your thirst. They are exactly the epitome of summer, with their bright colors, fresh ingredients, and exotic flavors.
With each sip, you'll be transported to a world of sunshine, palm trees, and endless summer days. So grab a glass, fill it with your favorite tropical fruit flavors, and let the summer vibes wash over you.
Mango
The fruit originating in India has a tender, soft, juicy texture when ripe and crispy when still raw. Its taste also varies depending on the variety and ripeness, but an ideal mango taste should be a bit tangy, sweet, and has a pleasant fruity smell. Due to its flavor profile is usually compared to apricot, peach, banana, or pineapple.
This golden fruit can be used both on savory and sweet dishes due to its versatile characteristics, which makes it a perfect choice for both a dish and a drink!
Passion Fruit
Passiflora edulis, or Passion fruit, originated in Brazil in the 16th century. It's an egg0-shaped fruit with different variety of colors that has a jelly-like covering sack of black wedged seeds which contains the juice or the edible part of the fruit. 
It has a sharp, tart aroma and sweet-sour taste like a pineapple and a kiwi. Due to its naturally high acidity, it helps in food and beverages prolong their shelf life.
Tropical Passion Fruit Moscow Mules
Bourbon Passion Fruit Cocktail
Guava
Guava grows only in tropical and subtropical climates. It is a ball-like shape with a little crown in its tip, usually consumed directly or made into a jam or dessert. It has a distinct fruity aroma with a tart flavor but is primarily sweet. Depending on their variety, some have hard, crisp skin, and some are soft.
It is often thought to have a similar taste and texture to strawberry and pear. It is juicy, smooth, and fibrous yet creamy in texture, making it perfect for jams, smoothies, and other beverages like cocktails!
Papaya
The tropical fruit originates in America and Mexico, and it grows from a tropical climate and is available all year round. It's also got different varieties, which usually differ in texture and mouthfeel. The color of the fruit ranges from yellow to orange, with little black seeds inside that are also edible, but not many are fond of. Ripe papaya has a buttery texture, smooth, creamy, and almost melts in the mouth feel.
It tastes sweet and has a musky smell due to its enzyme and is often compared to cantaloupe and mango due to its texture. 
Papaya Cream with Cassis Liqueur
Dragon Fruit
Pitaya, or Strawberry pear, is a cactus originating in Central and South America. It was in 1900 that the fruit was introduced to Southeast Asia by a French colonist. It is an oval-shaped fruit with purple, red or white seeded flesh covered in vibrant pink and green-spikey skin. 
A unique sight indeed to many who have never seen quite like a fruit. It tastes sweet, a bit tart, creamy, and yet crunchy. The fruit's flavor profile is often similar to kiwi and pear.
Kiwi
This emerald green-fleshed kiwifruit was first grown in China and mainly used for its medicinal properties. The hairy fruit was cultivated commercially in New Zealand in the 20th century, which they called kiwifruit or Chinese gooseberry. It's a small brown fury-skinned fruit.
Its flavor is often described as the same as that of a banana and strawberry due to its tender and soft texture and pineapple due to its slight tart notes when it is ripe.
Lime
This round green fruit is native to Indonesia and mainland Asia. In 1943, Christopher Columbus took some seeds and brought it to the West Indies and spread them throughout Mexico and Florida. Its juice is tart and acidic in taste but has a distinct fragrant, zesty sour flavor that's perfect for savory dishes. And it is not eaten on its own due to its bitter taste when bitten.
Orange
First grown in Southeast China, this adored fruit is named after its color. A small round with a sweet hint of sour smell and taste. It was again Christopher Columbus who stashed some seeds and bought them in Florida, where they are cultivated, grown, and soon spread throughout other remote regions.
It's got a delightfully sweet pulp and scent that make it great for juices and dishes. The fruit's natural tropical flavor will definitely be perfect for a delicious, refreshing cocktail.
Sparkling Orange Lemon Gin Cooler Cocktail
What's great about Tropical Summer-flavored cocktails is their versatility. From sweet and fruity to tangy and sour, there's a drink for everyone to try. And the bright, bold colors of these drinks are sure to make any party or gathering feel like a tropical getaway.
So get started in mixing up a few of these refreshing flavors, put on your favorite tropical music, and let your worries melt away!
POLICIES & WARRANTY
CELLULAR CONTACT
SMS Text Message:
+1 (845) 498-1395
(cannot accept phone calls)