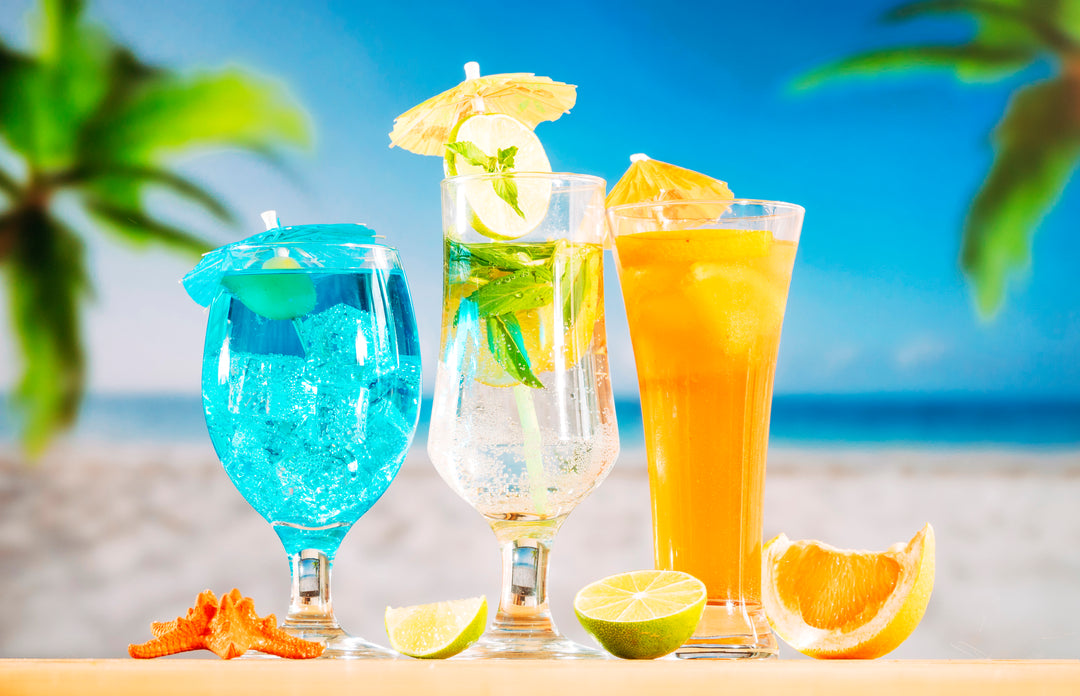 Posted on
---
There's always something about the summer heat that creates that urge to to crave for bright and refreshing flavors. The tangy bite of a perfectly ripe pineapple, the refreshing coolness of a cucumber, and the sweet juiciness of a watermelon all capture the essence of a perfect summer in every bite and sip.
Let's take a journey through these fruity flavors that will surely transport you to the heart of the season and leave you feeling refreshed but wanting more!
LEMON
The existence of this fruit dates back to the ruins of Pompeii, and the name Lemon comes from the Persian word "Limu." In mid 15th century, the fruit was cultivated in Genoa and and in the Azores in 1494. In 1882, a variety of lemons called "Millsweet" was believed to have been cultivated in the gardens of San Gabriel Mission. It was created to provide food for priests, visitors, and local workers. A drink called "refresco" was known to be a favorite drink of one of the Padres in the San Gabriel Mission. The usual application of using lemons is serving it as a lemonade which is squeezed lemon juice, water, and sugar, and its peelings are usually used as garnish or aromatics for cola drinks.
Known to be an excellent source of vitamin C, it also has antioxidant-like properties to protect cells from being damaged. Its juice is made out of 5% citric acid, which gives it's sour taste. The sweet, tangy smell of a lemon is a perfect flavor to brighten your sunshine feeling even more!
Here are some lemon-flavored recipes you can try:
WATERMELON
Did you know that watermelon is a type of berry and is harvested as a vegetable? The fruit originated in Africa, and by 2000th BC, it was cultivated and spread in Ancient Egypt. Some 5,000 years ago, the first watermelon harvesting was believed to have been found in ancient Egyptian hieroglyphics. The spread from Africa to Europe. In the 7th century, it reached India and China. The first watermelon was cultivated in the 16th century in Florida and later on spread across other states. 
Watermelons are technically 91% water and 6% sugar which is a great way to quench your thirst during the summer season plus, it's also packed with vitamin C and is low in fat perfect for health conscious guests.
You can check these watermelon inspired cocktails to shake up for your guests:
Frozen Watermelon Jalapeno Bellini
COCONUT
Coconut or also called "cocos nucifera" was believed to have originated in Southeast Asia. In the 16th century, the coconut arrived in Europe's "maritime Silk Road" following Barco De Gama's direct trade route between Portugal and India. Since it has natural electrolytic properties, many athletes are consuming its juice, and since 2013, there has been a significant rise in the consumption of the fruit and its juice.
Its fruity, milky, and sweet notes of melted butter aroma make a perfectly rich, and delicious cocktail for your family and friends. 
Some coconut-based cocktails that you can try shaking up yourselves are:
PINEAPPLE
The origin of the fruit dates back to Brazil and South America. It was believed that Christopher Columbus was the only one who first tasted the fruit. The European Royal Members soon developed a liking for it, and It eventually spread and became available for the noble and the elite.
The pineapple is similar to the tangy and sweet taste of the orange, zesty, fresh, and bright. They are particularly juicy and are perfect to be grilled to enhance the drinking experience.
The cocktails that we curated here are samples that you might want to shake when you are craving something sweet and tangy:
CUCUMBER
Considered one of the oldest vegetables, which was believed to have originated in India and Southeast Asia. For at least 3,000 years of cultivation in Western Asia, including China and Europe, records show that it also appears to be cultivated in France in the 9th century and in England in the 14th century. It was also introduced by Christopher Columbus in 1494 in Haiti.
Cucumber has a composition similar to that of tomato, which is rich in water but has very little vitamin content. Its got a crisp, mild, and fresh flavor similar to that of watermelon. 
Here are some cucumber cocktail recipes for you to try and enjoy:
As we go on embracing the joys of summer heat, let's also be inspired in the power of these classic flavors that are a true Summer pleasers. They can make a hot day feel cooler, a meal feel so satisfying, and a celebration feels more festive.
So, go ahead and savor the flavors of sunshine. Whether it's a crisp cucumber fizz or a tangy watermelon margarita, let these timeless tastes transport you to a place of relaxation and happiness.
POLICIES & WARRANTY
CELLULAR CONTACT
SMS Text Message:
+1 (845) 498-1395
(cannot accept phone calls)