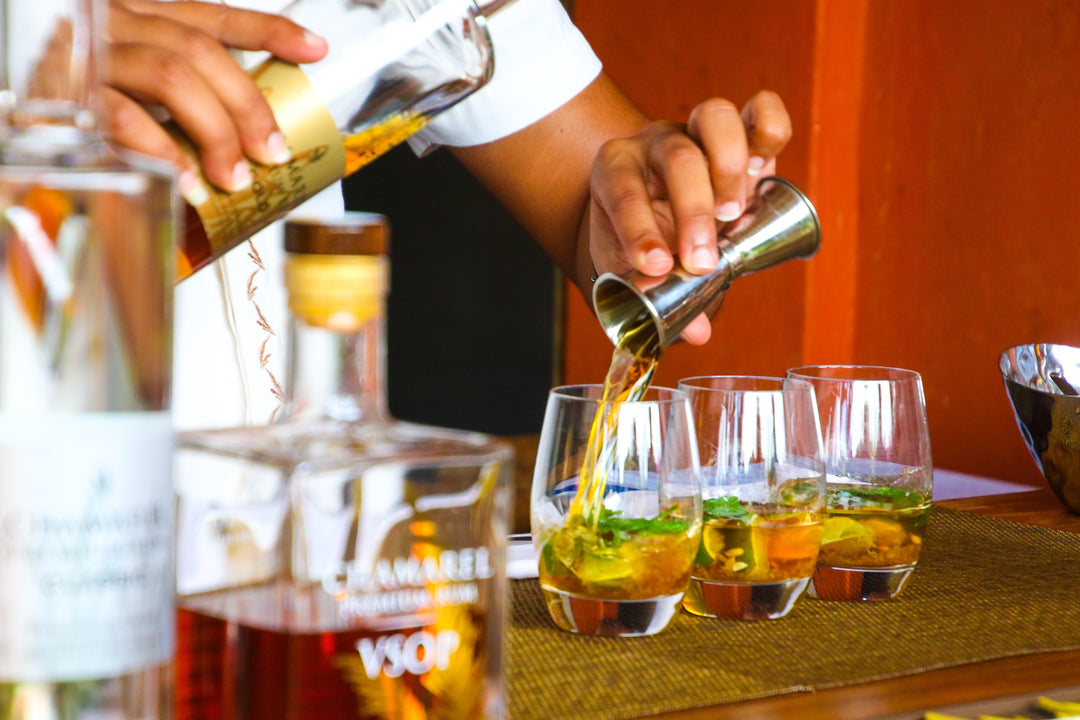 Posted on
---
Whether you love entertaining your guests with drinks or simply making some for yourself, knowing the basic elements of cocktail mixing is a must, and guess what? It isn't hard!
With curiosity and a lot of passion, you don't need formal training to learn the basics. Read this article about what constitutes a cocktail and tips to help start your mixology journey.
WHAT'S A COCKTAIL?
A cocktail drink is a beverage that usually contains alcohol and is mixed with complementing juices, sweeteners, and bitters served with edible garnish in small amounts. 
There are at least three basic cocktail essentials that you need to remember when mixing a cocktail drink.
Base
A base in a cocktail is the spirit or liquor itself. Some cocktails, though, require fermented beverages instead of using a high-proof alcoholic base. A spirit's flavor profile varies and is usually a clear distilled liquid with high alcohol proof.  
Below are different types of neutral spirits that you should know.
Gin - Widely used in the past as a medicinal beverage, this liquor originated from Holland and is a transparent white to light yellow liquid from fermented grains with juniper berry as its primary flavoring agent with a 35% up to 80% alcohol proof.
Some cocktails that use gin as the base are classic Martini, Negroni, and Gimlet.
Vodka – A spirit originated in Poland and Russia, distilled multiple times to achieve a higher alcohol proof of at least 40% and up. It is usually made from fermented grains but sometimes from potatoes, sugar beets, or cassava.
Cocktails that use this base are Screwdriver, Bloody Mary, and Vodka Martini.
Tequila – This neutral spirit originated from the state of Jalisco, Mexico, named after the town of "Tequila." Usually distilled and aged for 60 days before bottling, it is made from Weber blue agave plant that's a staple in Mexico with a sweet citrus flavor profile and sometimes smokey due to the barrel storage used during the aging process.
Some cocktails that use this base are Margaritas, Tequila Sunrise, and Mexican Mule.
Rum – It was said that it originated from Barbados Island, located in West Indies. Made from molasses, a by-product of sugarcane that is fermented and distilled. It's why most of the rum is darker in color compared to other neutral spirits. It is low alcohol proof, usually not reaching 40%, and has a dominant fruity and nutty flavor profile.
Some rum-based cocktails are Daiquiri, Mai tai, and Pina Colada.
Whiskey - The first recorded whiskey production was in Scotland. With an alcohol proof of 80 and up, this spirit made from distilled grains is known for its oak fragrance and vanilla-caramel-like flavor notes.
Cocktails that use this spirit are Manhattan, Mint Julep, and Old-Fashioned.
Brandy - Used as a medicine, this spirit which originated from France with 50% alcohol by volume and up, is made out of fermented fruit juices or mash such as grape, apple, pear, apricot, and many more—distilled to achieve a clear liquid form and aged in barrels resulting in a deeper amber color. Its flavor profile is that of dried fruits and flowers with notes of citrus zest.
Cocktails that use brandy are Metropolitan, Sidecar, and Brandy Sour.
Of course, there are fermented beverages like wine, beer, mead, hard cider, and many more. They also make a great base, depending on your cocktail recipe. 
Modifiers
Next on the list is the modifiers. This element plays a vital role in boosting the flavor profile of a cocktail. It's commonly used to soften the base and adds depth and distinct flavor, enhancing the drinking experience.
We've dug deeper into finding the different variations of modifiers, and here's what we got for you!
Sweeteners (cordials and liqueurs) - As it is an essential ingredient in mixing a cocktail, its role is not just to sweeten but to balance the acidity and bitterness of the drink. Also, there are those we call syrups, like maple syrup and simple syrup, honey, and agave nectar. But the two widely and commonly used are:
Cordials - These are non-alcoholic bar syrups widely used to enhance the flavor and give off color and vibrance to the drink. Some examples of cordials are Grenadine Cordial syrup with a deep red color from pomegranate juice; Blue Curacao, a sweetener cordial colored blue with an orange citrusy flavor; and Lime Juice which is a mix of lime juice and sweetener, specifically sugar.
Liqueurs - Often considered a flavored alcoholic beverage with a lower proof of distilled spirits, averaging between 15 % to 30%. They usually have a distinct flavor, including Irish cream, Triple sec, and coffee liqueur.  
Sours- Yes, you read it right! You can use sour mixes for your cocktails for flavor and intensify the taste. Usually, they are mixed with the dominant citrusy, sour ingredient like lemon and lime, sometimes orange mixed with sugar. You can make your own at home, all you need is a good recipe for a sour mix, and you're all set. If you prefer to take the easier path, numerous brands of sour mixes are available in the market nowadays.
Bitters- Marketed as a medicinal tonic during the mid-1800s, bitters are small bottled spirits with strong flavors and taste profiles. They are high-proof spirits infused with herbs and spices; others include citrus peels, roots, and tree bark. They are usually used in small quantities, like in drops or dashes. Examples are Angostura bitters with bitter and spicy notes and hits of clove and cinnamon. Another one is Peychaud's bitters which have hints of anise and mint.
Mixers/ Water - These are generally liquids that blend with the rest of the elements stated above. Many mixers are for the sole purpose of diluting with alcohol to amplify the taste and flavor while lowering the alcohol content of the cocktail drink. Examples are club soda, cola, ginger ale, and juices.
Garnish
The final component is the garnish which many would view only as an ornament for aesthetic purposes, especially the non-edible ones. But did you know that some of the garnishes in the history of cocktails are used to enhance the drinking experience? One great example is rubbing citrus peel or twisting it on top of the cocktail, allowing you to inhale the fragrance on the glass of the drink.
For most bartenders, all garnishes should be able to either improve the drink's flavor, aroma or texture. Of course, you can always get creative on your garnish and make it look like your masterpiece. Just make sure it doesn't ruin your delicious cocktail and is food-grade.
The Art of Cocktail Shaking and The Science of Cocktail Ice also impact the drink's overall taste and texture. That's where choosing the right bar tools comes in, as it will be your reliable partner in creating a tasty cocktail drink. Our 14-piece cocktail mixing set is designed to be beginner-friendly for ease of use and comes with free recipe cards that are very easy to follow.
As a final note, creating cocktail drinks can be tedious at times, especially when you're not sure what to put in your glass. Having the right components and being familiar with taste profiles play a vital role in creating a well-balanced, delicious cocktail drink, thus elevating your guest's drinking experience and yours. 
So, now that you have read all the basics of cocktail mixing and what constitutes a good cocktail, are you ready to bring out the mixologist in you?
POLICIES & WARRANTY
CELLULAR CONTACT
SMS Text Message:
+1 (845) 498-1395
(cannot accept phone calls)