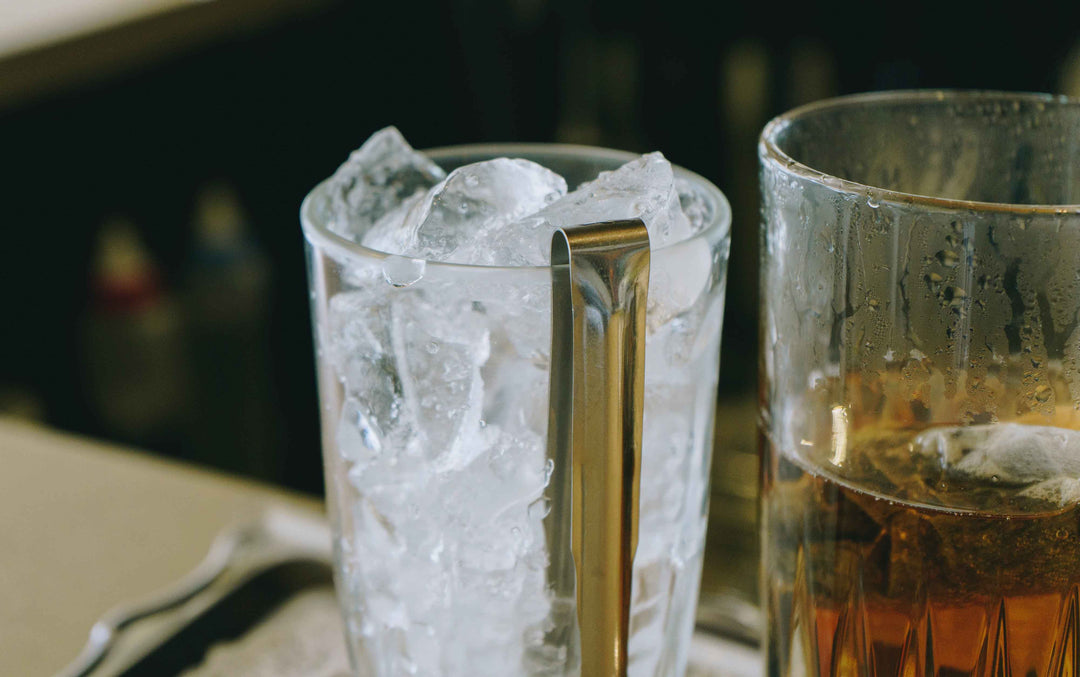 Posted on
---
Ice might be the most common cocktail ingredient there is, so beginner bartenders should know that the form and quality of ice are as important as the other ingredients in mixology. To know more about how to use ice to your advantage, keep reading!
Ice Form
The choice of ice in cocktails is not only for aesthetic purposes, but it actually serves a function so you can enjoy your drinks better.
Here's a simple logic of cocktail ice: the ice's size and surface area correlate to the dilution rate. So, the smaller the pieces are and the larger their surface area, the quicker it can chill your drink, but it would melt and dilute your cocktail just as fast, and vice versa. 
Crushed ice
Following the logic above, crushed ice is typically the fastest to melt of all the ice forms that are mentioned in this article.
We bet you've already guessed what cocktails it is best used for! That's right – tiki drinks, and other cocktails that are popular during hot weather, such as Mojitos, Mint Julep, and Moscow Mule. The fast-melting crushed ice would make these drinks super cold in a few minutes and mellow down the alcoholic taste.
If you noticed, the kinds of cocktails crushed ice is perfect for are those you would normally drink casually, just like juice, and wouldn't linger for too long.

Standard Ice Cube
It's probably safe to say that we have already seen a standard ice cube in our lives. These are the ones we make using regular ice trays. Standard ice cubes are so easy to make and get hold of, so it's the go-to ice for novice home bartenders. And there's no shame in that!

Many use this ice form for many cocktails. It may not be as slow-melting as a larger ice cube or a Collins Spear ice, but hey, it works.
Cracked ice
If you're looking for the sweet spot between your standard ice cubes and texture-rich crushed ice, you can go for the cracked ice. It can also make your drinks cold fast, but it wouldn't water down your cocktail as quickly as crushed ice.

This cocktail ice form is usually used for stirring drinks made up of only spirits and lesser ingredients, such as the Negroni. Because of its versatility, cracked ice can also be used for tropical cocktails such as the Caipirinha.
Collins Spear Ice
The Collins Spear ice is a tall block that fits a high ball and a Tom Collins glass. You would want to use this fancy ice spear for cocktails like Long Island Iced Tea.
Going back to the logic we mentioned earlier, if the ice form is larger, it would stay solid longer, thus, slower to chill and dilute your drink, and retain the quality of your cocktail until the last sip.
Large Ice Cubes
Large ice cubes are somehow popular as it's commonly used for Old Fashioned and Negroni. Like the function of the Collins Spear, a solid large ice cube is perfect for cocktails that don't need too much dilution. It lets you linger with your drink.
Spherical Ice
Have you ever seen large ice balls on your hard drinks? It's not just for aesthetic purposes; there's a rationale behind that big ol' ice ball. 

Remember, the larger the surface area of the ice, the faster it'll melt and chill your beverage. Compared to large ice cubes, spherical ice has a lesser surface area, which means that ice balls are more effective in reducing the dilution rate of your cocktails, like the Old Fashioned.
If you want to explore other forms of ice, here are some that might spark your interest for starters:
Whiskey Ice Mold Set, (Set of 2 & Ice Container)
Tovolo Sphere Ice Molds - Set of 2
DRINKSPLINKS Silicone Slab Ice Molds
True Cubes Clear Ice Cube Maker
Ice Quality: Clear vs. Cloudy
Does the difference between clear and cloudy ice ever cross your mind? As we always do, we'll uncomplicate bartending topics for you!
In cocktail mixing, even the quality of ice matters if you want to get the best out of your drink. Have you ever noticed the appearance of the cocktail ice served on decent bars, or do you just drink the beverage straight up? In case you are observant, most good-quality cocktails have clear ice used to chill them. 
To cut it short, clear-looking ice is considered to be of good quality compared to cloudy ones because clear ice is made of clean and pure water, which means it doesn't have impurities, such as minerals. 
However, cloudy ice does not necessarily mean it's dirty or harmful. Clean, pure water freezes first, pushing the impurities into the middle of the ice. This is one of the reasons why you see a cloudy core on some ice. Another reason for the cloudy appearance is rapid freezing which causes trapped air bubbles.

Okay, let's cut to the chase. Is clear cocktail ice better than cloudy ice? The answer is yes. Cloudy ice has more air bubbles which make it easier to melt. This means that your cocktails will be diluted faster as compared to using clear ice.
Now that you have read this article, would you look at cocktail ice the same way ever again?
POLICIES & WARRANTY
CELLULAR CONTACT
SMS Text Message:
+1 (845) 498-1395
(cannot accept phone calls)