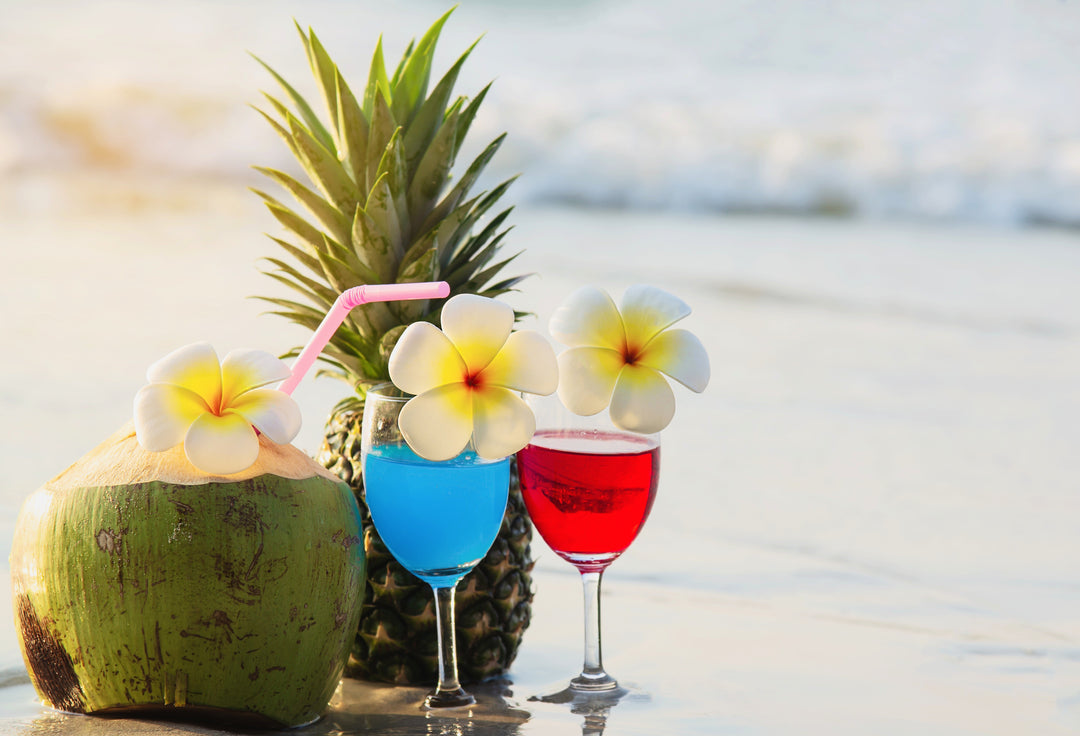 Posted on
---
Tiki, a word that means "Māori, "often refers to a stone or wooden carving that resembles a human being with a distorted facial expression. It is part of Polynesian culture, mainly representing Polynesian Gods or the first man ever made. It touches on the heritage of mythology, culture, and history of the people from the South Pacific. Known for their fruity and sweet flavors, colorful presentation, and elaborate garnishes, many Tiki cocktails use rum, which was a popular spirit in the Caribbean and the South Pacific, and incorporate other tropical fruits and spices like pineapple, coconut, and cinnamon.
Let's get to know further our Luau drink that transports us to summer and sunshine!

The birth of Don Beach and Trader Vic
In 1933-1934, Texas-born Ernest Raymond Beaumont-Gantt, together with his girlfriend Cora Irene Sund, also known as Sunny, had the idea to put up a Tiki-themed bar in Hollywood, California, known as "Don the Beachcomber." The bar became a huge success which led him to change his name to "Don Beach" to match the popularity of his bar. After about three years, they moved into a larger location just across the street and started incorporating more Polynesian-inspired styles like fishing nets and bamboo decorations, exotic tropical cocktails, and Cantonese cuisine. A few years later, the restaurant expanded to 16 more locations within the US.
After World War II in the early 1940s, when soldiers were returning from the Pacific began the hype for Tiki bars and cocktails. Creator Victor Bergeron, following the concept of his favorite Tiki Bar, Don the Beachcomber, opened his own tiki restaurant in Northern California, including a gift shop with nautical accents and some shipwreck décor to emulate a more tropical vibe. He even used rattan furniture and lighted torches for a more island feel. He often offered guests free food and drink in exchange for Polynesian-inspired decorative items, thus earning his alias and the name of his bar, "Trader Vic's." The island-inspired concept quickly found its way through 25 other different locations in the United States.
Tiki and Hawaii
Since Donn Beach joined the forces when World War II broke out, his wife Sunny was the one who managed the entire business and eventually led to expansion. When Donn returned after the war, he was welcomed with a prosperous business. Soon after his return, he and his wife split up. Sunny insisted on keeping the rights to the brand and eventually won the legal battle. He was no longer allowed to use the brand's name within the US territory. 
Hawaii, on the other hand, was not yet under US sovereignty, and Donn had a plan. He moved out of the state and opened a new location under the same name," Don the Beachcomber." His Hawaii and Tiki fusion concept became an instant hit yet again.
The Rise of Tiki Pop Culture
From the 1950s to the 1960s, the rise of Tiki and Hawaiian culture became very famous in every movie and magazine. Airlines had given more access to travel to Hawaii Islands, and Tiki bars started to emerge around the US. With driftwood, coconut, fishnets, and other tropical and Polynesian-inspired decorations, plus lots of rum, the Tiki pop culture eventually took off and spread all across the states. It was a time when people would only look at e  coconut and palm trees, blue beaches, and sand as a flimsy dream. 
The Fall of Tiki Craze
By the 1970s, there was a significant drop in Tiki bar enthusiasts. Disco bars became more popular, offering the dance floor to patriots who loved dancing to live or recorded music. By the 1990s, the Tiki concept was almost out of the scene One by one, these bars and restaurants closed, leaving behind only traces of yesterday's paradise.
Tiki Renaissance
Recently, Tiki culture has been making a comeback and is slowly being introduced again to modern bars and restaurants. The classics of Tiki cocktails are known for their exotic and robust flavors, tropical ingredients, and fascinating garnishes, while bartenders of the modern age are reimagining the classic recipes using fresh fruit juices, unfamiliar exotic ingredients, homemade syrups, and modern techniques. In 2008, Tiki bars began surfacing again, and this definitely sparked a renewed interest in Tiki culture, with fanatics collecting vintage mugs, decor, and clothing to emulate what it was like during the early days of tropical escape.

Today, the resurgence of Tiki culture celebrates the same essence of adventure and fun and offers a chance to indulge and embrace something exotic yet familiar. With its colorful and playful vibe and drinks, the Tiki cocktail and culture trend is definitely here to stay.
Classic Tiki Cocktails
The classic Tiki cocktails are known for their robust and bold flavors and ingredients. It's usually a blend of rums, fruit juices, mainly lime, and syrups like grapefruit and pineapple, resulting in a complex and refreshing flavor profile.
The following are some of the Classic cocktails that made Tiki culture a sensation during the early days:
Modern Tiki Cocktails
Modern Tiki cocktails have been gaining more attention in recent years, blending the tropical fruity flavors of classic Tiki drinks with a modern twist. These modern-day cocktail recipes often feature unexpected and unique ingredients like jalapeno or matcha, which add a unique twist to the classic flavors. It offers a fresh and adventurous take on the tropical cocktail flavor, perfect for anyone looking to explore new and creative flavor fusions.
Here are some Modern Tiki cocktails to try if you're feeling more adventurous:
The attention to detail is what makes Tiki cocktails unique in both the presentation and the ingredients. Creating fun and creative garnishes, from mini paper umbrellas to pineapple wedges and citrus wheels, Tiki cocktails are indeed a celebration of the island lifestyle and adventurous spirit that lives within all of us. 
So, the next time you're in the mood for something tropical and exciting, raise a Tiki cocktail mug and toast to the beauty of island escapism and creative indulgence.
POLICIES & WARRANTY
CELLULAR CONTACT
SMS Text Message:
+1 (845) 498-1395
(cannot accept phone calls)