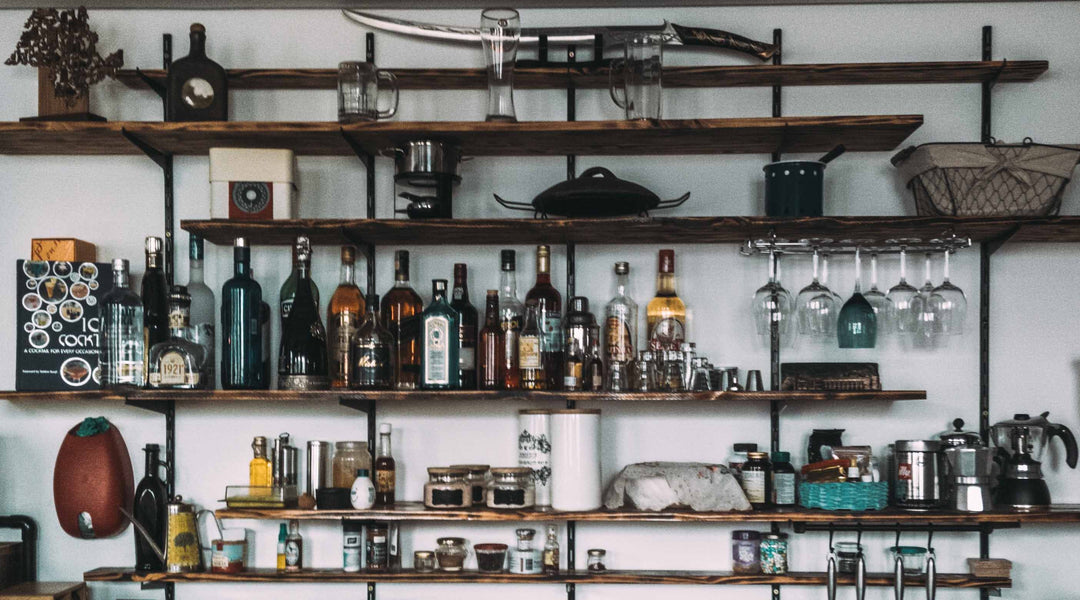 Posted on
---
No matter how busy we are in our adult lives, it's so gratifying to have a specific spot in our house to showcase the things that we love. For us alcohol lovers, it is our home bar.
Whether you are a new homeowner, renovating your house, or just simply wanting to spice up your life by making your personal bar, then you are in the right place.
We will make this article concise but helpful enough so that you can already start shopping and designing to your heart's content! Don't worry, we'll make an in-depth blog about each subtopic in this article. 
Essential Home Bar Tools
Shaker
You might be interested to try to use a shaker whenever you see bartenders confidently shaking cocktails. If you believe that a home bar wouldn't be complete without this tin shaker, we agree with you. 
Choosing the right shaker for you boils down to your own personal preference, but here's a guide:
Boston Shaker has 2 pieces, a bottom tin and a smaller top tin (sometimes glass), this is the usual shaker you'd see bartenders use. It's easy to use and seal, and you'll look like a pro!
The Cobbler Shaker comes in 3 pieces; a bottom tin, a built-in strainer, and a small lid. This is beginner-friendly and cost-effective because you'll already get a strainer, and it's easy to shake with just one hand if you're not comfortable using both. 
Parisian or French Shaker is the hybrid of the Boston Shaker and the Cobbler Shaker. Its shape is almost like the latter but it doesn't have a built-in strainer. It's beautiful but not as popular as the first two types of shakers.  

Muddler
Another cool thing about cocktail-making is that you get to muddle fruits and herbs! You might think that you can just use some kitchen tool to do this, like a mortar and pestle, but a nice home bar has its own muddler. 
There are 3 easily available kinds of muddlers in the market; pure wood, pure stainless steel, and stainless steel handle with a plastic tip. It's really up to your preference what muddler material you want to use. 
Oh, just to add, Bare Barrel's muddler design is Patent Pending, so it's ergonomic and fits snugly to any of our wooden stands.

Jigger
It might be fun to just pour any amount of alcohol into your drink and mix other ingredients as you please. But in case you want to follow recipes and achieve a consistent taste, or be moderate with your booze intake, you should have a jigger. This bar essential typically has 2 sides that can hold 1 oz and 2 oz. There are different jigger designs, some are thin and tall, and some are short but wide.
Strainer
There are cocktails that you want to be textured and sometimes you prefer them smooth, and that's why you need a strainer.
The most common cocktail strainer you see used in bars is the Hawthorne strainer, the one with a spring attached to it. It's good with straining small chunks of ice and muddled ingredients. A Hawthorne strainer fits perfectly on mixing tins.
However, if you really want your cocktail to be fine and smooth, you can use a fine-mesh strainer for doing the double-straining method.
Another one is the Julep strainer. It has the same function as the Hawthorne strainer but this fits better on mixing glasses.
Additional tools
Bar spoon - Yes, you can use other available kitchen tools or utensils to stir your mixed drink, but a bar spoon would make your life easier! Its long and threaded shaft would help you stir drinks even from tall glasses and layer ingredients like a pro.
Waiter's knife - You need to consider getting a waiter's knife The purpose of a home bar is to make your drinking experience smooth and hassle-free. Adding a waiter's knife that has a worm screw, foil cutter, and bottler opener is a total game-changer.
Pourer - If you're into making a more advanced home bar to cater to your guests, a stainless liquid pourer is a nice little addition that you can insert on liquor bottle openings for an easy-peasy pour.
Tongs - This is a very straightforward tool that almost any household has, but make sure to have a separate one for your home bar.
Glassware
Of course, having a good sets of glassware says a lot about a person! Let us walk you through the basic cocktail glasses that are worth a space in your home bar.
Rocks Glass
The Rocks glass is sometimes called an Old Fashioned glass or lowball glass, but there are many cocktails that are also well-suited to be served on this glass. Typically, a rock glass is best for cocktails that have ingredients directly mixed into it, which means that no shaking is needed.
Some of the popular cocktails that can are served in a rocks glass are:
Sazerac

Negroni

White Russian

Spicy Margarita
Coupe Glass
One of the most basic glasses to have when starting a home bar is the Coupe glass because many shaken and stirred cocktails can be served with this classic and elegant glass. The wide surface area of this glass is not suitable for carbonated drinks, but you can serve Daiquiri, Manhattan, and Gimlet without warming the cocktail with your hands, thanks to its long stem.

Hurricane Glass
You'll see this curved glass with a short stem for tropical cocktails, such as the Pina Colada, Tequila Sunset, and of course, Hurricane! If you have this, you can now sit by the pool while you sip your refreshing cocktail!
Copper Mug
If you're a lover of refreshing cocktails, you might want to have the iconic copper mug ready on your shelves. This is best for Moscow Mule and its variations, Mint Julep, Greyhound, and other non-alcoholic drinks!
Julep Cup
For occasions when you're just feeling extra flashy and stylish, you can also own a Julep cup to serve your Mint Julep to your guests.
Highball Glass
This is probably one of the most common cocktails and juice glasses you'll see. This tall and slim glass is great with well-known cocktails like Mojito, Bloody Mary, and Long Island Iced Tea.
Collins Glass
The Collins Glass is said to be a variation of a Highball glass, but it is a little taller and narrower. If it isn't obvious enough, this glass is made to serve Tom Collins cocktails, and basically almost anything that can be served on the Highball glass too.
Flute Glass
This tall stemmed glass is the way to go for carbonated drinks and like champagne-based cocktails, such as the Mimosa. It's always good to have this glass for dinner parties and even when you just want to have a sip of wine.
Margarita Glass
Another iconic glass for cocktails is the Margarita glass, a variant of the classic Coupe glass. As the name suggests, it's basically for the Margarita and the likes. 

Booze & Spirits
A home bar would not be complete without the booze! Here is some alcohol that you can start with.
Gin
A clear distilled spirit that mostly includes juniper berries and other herbs, botanicals, and fruits.
Tequila
For a fruity and earthy flavor, you can go for tequila. The fermented juice of the agave plant is distilled to make a Tequila.
Rum
Rum's taste and flavor depend on where and how it is made, but the common characteristic of this alcoholic beverage is it is distilled from sugar or molasses.
Whiskey
This is certainly a liquor you need to have on your home bar. Whiskey (or Whisky) is so popular that there are various kinds of this liquor depending on where it was made! Regardless of where it was made, whiskey is aged on wooden barrels, which gives it a distinctive taste.
Wine
Wine is another home bar staple you wouldn't want to skip for your fancy brunch and dinners. Just put some bottles of red wine and champagne, and you're good to go. 
Vodka
Vodka is a colorless and basically odorless spirit that is originally imported from Russia. It's usually distilled from grains and potatoes. Gin and vodka are usually interchangeable in some cocktails but these two spirits are nothing alike because gin has more herbal tones, unlike vodka which is neutral.
Brandy
When wine or juices from fruits are distilled, you'll get brandy. This distilled liquor is a go-to drink for alcohol lovers because it's great on its own and also makes a nice cocktail base.
Whether your home bar is big or small, simple or extravagant, as long as it serves its purpose in keeping you company. Make sure to subscribe to the Bare Barrel newsletter so you'll be always up to date when we post new content! Keep an eye out for our Home Bar Ideas blog coming out soon.
POLICIES & WARRANTY
CELLULAR CONTACT
SMS Text Message:
+1 (845) 498-1395
(cannot accept phone calls)