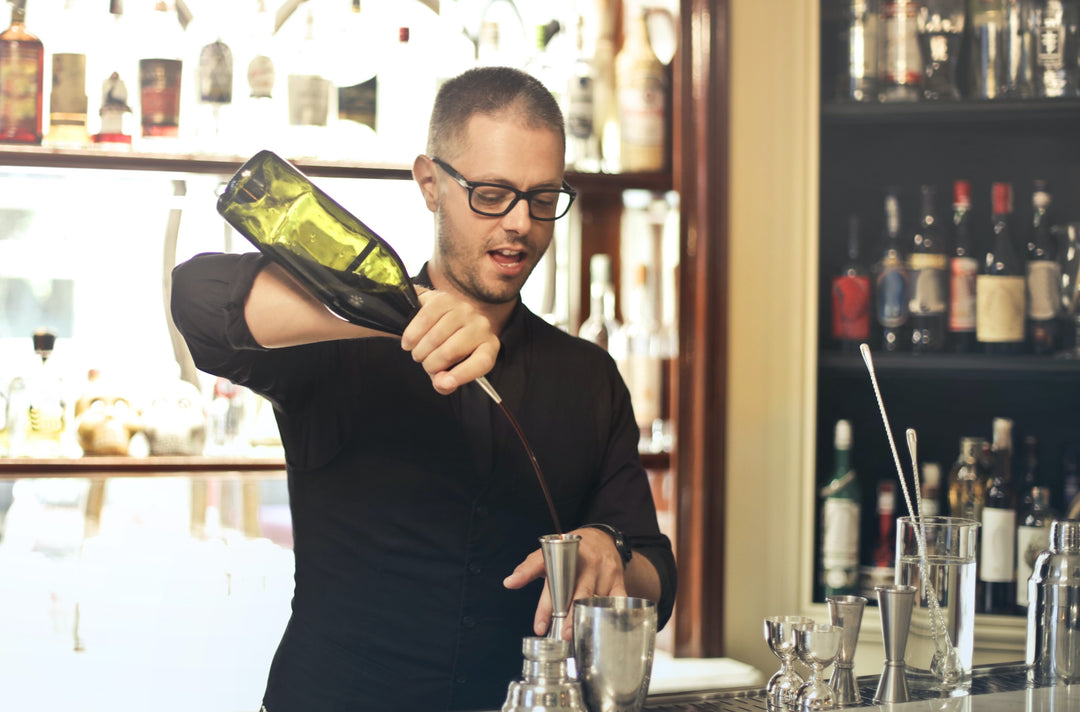 Posted on
---
Let's face it, making cocktails can be a handful sometimes, especially when you are just getting started in bartending and mixology. It is a creative labor of passion for mixing that requires innovative tricks to work your way around it.
Check out the following tricks, hacks and alternatives we gathered that might be helpful for you.
Bar Tools Alternative
If you happen to watch Drink Masters on Netflix, their episode two Mix-off battle featured a test where the challengers have to make their cocktails without proper bar tools. In this section of the article, we will give you some more ideas so you won't have to, yet again, postpone your drinking cravings!
Don't have the right tools to use?
Look around your kitchen, and you might find something useful to create your fantastic drink. 
Cocktail Shaker
If you're someone who wants to mix something up or a beginner with no means of buying a cocktail shaker yet, use a mason jar or any water bottle as an alternative to shaking your drink. Just make sure to clean and sanitize them well before using them!
Jigger
If you don't have a jigger, look for a measuring spoon or cup in your baking tools as a temporary replacement. A kitchen teaspoon and a tablespoon will work just fine as well. You just got to know the right measurement conversion, and you'll have a good cocktail in no time. Check out The Art of Cocktail Making: How To Measure Your Cocktails for a comprehensive guide to converting cocktail ingredients.
Strainer
When transferring your drink to a serving glass, use a slotted spoon or a tea strainer to filter large chunks of debris and ice. You can use coffee filters or cheesecloth to double-strain if you want a smooth and clean cocktail mixture. Just be careful not to overpour to avoid spillage.
Muddler
There are several alternatives you can use as a muddler replacement. There's the rolling pin if you are into baking. A small to a medium-sized one will do so it fits inside your glass or mason jar. Another tool is the pestle from your mortar and pestle set. This works well, especially since the tool is made to crush herbs and spices. It can definitely handle the job.
Next is the rounded flat tip of a spatula or spoon's handle. Hold the spoon or spatula upside down and muddle through the ingredients using the handle's tip.
                                                                                                                                                                Although these kitchen tools are here to stay and are convenient to use, it is still highly recommended to have the right Bartending tools for shaking and crafting your delicious cocktail because nothing beats the experience of shaking with an actual cocktail shaker! 
Good thing our SHOP has a variety of bartending sets for you to choose from. Have a peek, and you might find the right set of tools for you.
Cocktail Ingredients Hacks
There will be those moments when you will run out of ingredients in your home bar, and you can't get out of your home for some reason. Read through our gathered hacks so you'd no longer worry about running out of Bar staples.
Homemade Ice
I'm sure almost everyone in their household now has an ice maker feature on their fridge, so it might be one less thing to think about when crafting cocktails. But just in case you don't have one, making your ice out of your baking molder or simply a zip-lock bag will do the trick. To crush your ice, use something that is hard and easy to handle. 
If you're using a silicon molder or an ice tray, try boiling distilled water before freezing them. This way, you will achieve clear and professional-looking ice for your drink! Check out more about it here: The Science of Cocktail Ice. Finally, adding some edible elements like citrus slices and flowers will make the ice more aesthetic and elevate the cocktail-drinking experience.
Homemade Syrup
Making your simple syrup at home is not at all a bad idea. Although it requires patience and work, it will surely enhance your drink's flavor. The recipe only calls for a ratio of 1:1. That's one part sugar and one part water, then bring to a boil. You can add in some flavors or herbs and spices if you like. But going for a classic syrup is still the best. Keep it on your fridge for up to 14 days. 
Sweetener Alternatives
Create your homemade grenadine syrup by boiling 1 part pomegranate juice and 4 parts granulated sugar. Get a nice boil until it becomes thick, and store it in a jar or bottle for a month. 
If you are into fruits or citrus-flavored sweeteners and run out of one, jams and sauces will come in handy in this situation, it is also the best substitute instead for homemade simple syrup.
Infused Spirit
Create your flavored liqueurs at home if you want to save money or experiment with new flavor combinations. Choose the type of liquor and the flavor you want to infuse to get started. Pour your liquor and flavor of choice into a jar with an airtight lid. If you're using herbs and spices, use only an ample amount to avoid overpowering the liquor's taste. 
Let the mixture sit in an airtight jar, depending on the level of infusion you want. If you're using only fruits and citrus, five days at maximum would be best. If you're using some herbs and spices or spicy elements like chili or jalapeño, 24 hours or less will be sufficient. Strain and store the infused spirits in a clean, sanitized bottle or jar. Set aside in a cool and dark place for future consumption.
Egg white Replacement
Worried about salmonella but love frothy and bubbly cocktails like the classic gin sour. Great news cause there's a substitute available for egg whites! 
Aquafaba or Chickpeas juice is the best replacement for egg white in your cocktail. The liquid from canned chickpeas can achieve the same texture as egg whites in your drink. It doesn't have a stinky smell or strong flavor, and yes, you guessed it right! It's vegan, and it's healthy!
Serving Your Drinks
When serving your delicious cocktails, it's always a nice touch to present your drink in an elegant yet clever way. Try these lifesaver tricks and hacks for a fun and festive drinking experience.
Rimmed Glass
Don't have any idea how and what to rim your crystal ware? It's easy! All you need are some spices, salt or sugar, and something that will make them stick on the glass, like an extract from a citrus wedge, maple syrup, honey, or anything thick and viscous. It also depends on the flavor you are going for, but if you want to keep it simple, water will do the trick.
Get creative with what to rim your cocktail glass by combining flavors complimenting each other, like cinnamon and sugar or chili powder and salt if you fancy some spicy blend. The sky is the limit if you're up to experimenting with delectable combos for your cocktail rims.
Pre-chilled Glass
Pre-chilling your glass is actually a common practice among bartenders. It helps the cocktail stay cold for longer and will not compromise the taste of your drink. The right size of glassware also plays a role in preserving the temperature, flavor, and taste profile of your sweet drink. 
Suppose you plan to make your cocktails on the spot and have little time to prepare a frosted glass. Try crushing some ice and putting it in your serving glass for 60 seconds, then remove it if your drink is ready to be served. Another way is to get a wet paper towel and wrap it around the glass. Stick it in the freezer for 3 to 5 minutes, and your glass will be frosty good.
Garnish hacks
What would make a cocktail look more festive than a fancy garnish? Okay, let's set things straight. A garnish can be either edible or non-edible and used as an adornment or, at times, may add texture and complement the flavor of the drink itself. 
One common and useful trick is using citrus slices or peels. With a few knife skills and some trimming and twisting, you'll come up with an exquisite garnish. If you don't have a cocktail pick, use a toothpick or a hardy herb stem as a skewer or resort to a floating garnish like a sprig of mint for a refreshing look. 
Working smart and using the tools available is a nice skill because it sparks your creativity and resourcefulness, which is an excellent attribute of a great cocktail maker. It takes determination to want to keep learning and a lot of passion for perfecting the art of crafting a delectable drink. But good thing there are life hacks that can come in handy if we ever encounter a challenging situation.
What about you? Have you ever had a moment where you have to use some lifesaver tricks for your drink?
POLICIES & WARRANTY
CELLULAR CONTACT
SMS Text Message:
+1 (845) 498-1395
(cannot accept phone calls)