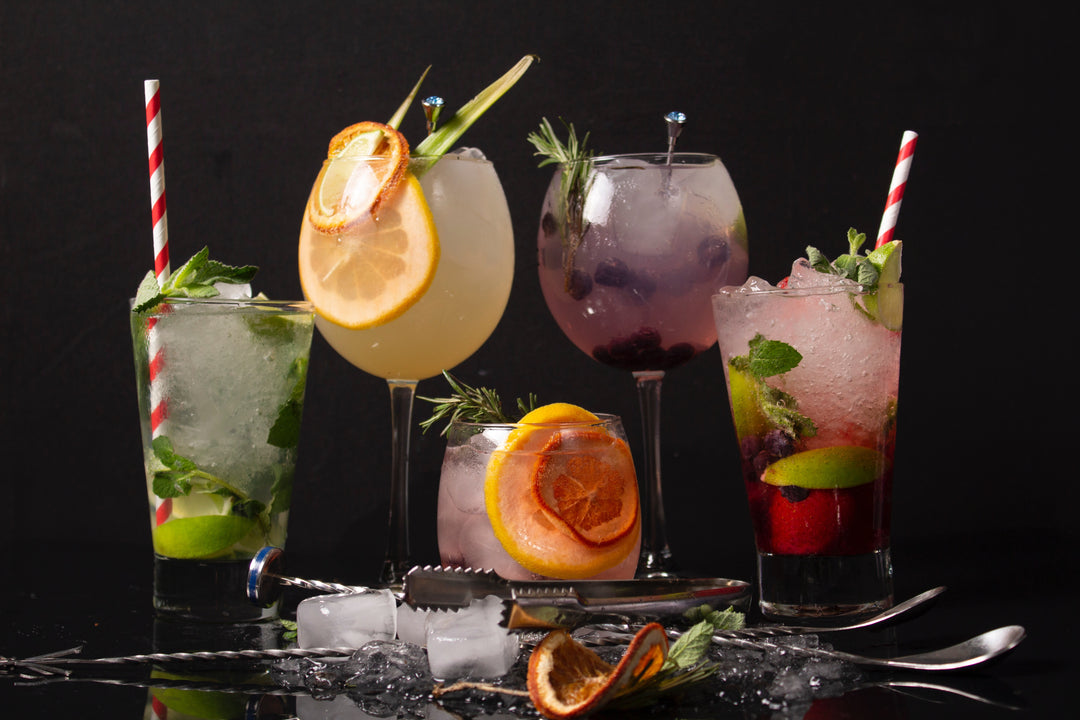 Posted on
---
Cocktail making requires creativity, precision, and of course, skills to come up with a well-balanced concoction. Shaking might be the most common technique when mixing a cocktail, but apparently, there are more techniques that one must know. The following information in this article will familiarize you with various techniques to help you advance in your budding mixology journey.
 Let's get to know each method.
Shaking
This most common and well-known technique uses a cocktail shaker where all ingredients are mixed with ice to chill. This is a very effective method if trying to dilute all ingredients while cooling the drink. Check out our blog about The Art of Cocktail Shaking, where we discuss this technique in detail. 
Example of cocktails that requires cocktail-shaking technique is Daiquiri, Margarita, and Cosmopolitan.
Stirring
Mixing glass and a bar spoon are needed when doing this method. Clear liquids are the ones that are usually stirred so they won't lose their crispiness, and using a very solid ice cube minimize dilution.
Cocktails that are stirred are Negroni, Manhattan, and Rum Old Fashioned.
Straining
Most of the cocktails require straining and sometimes fine straining by using a combination of a cocktail shaker's built-in strainer or Hawthorne strainer and a fine mesh strainer. This method eliminates residue from the ingredients and unwanted ice pieces to achieve a smooth velvety texture.
Espresso Martini, Whiskey Sour, and Sidecar are some cocktails that require straining.
Building
Among the methods, this one is the easiest by far, and it only asks to pour all ingredients into the glass where the drink will also be served, requiring minimal stirring and no straining.
Examples of cocktails that use this technique are Mint Julep, Tomato Sprits, and Dirty Shirley.
Blending
This method requires the use of an electric blender. This method is used when the recipe calls for a bigger batch or drinks where fruits and ice need to break down to create a soft and smooth, refreshing frozen cocktail. 
Some cocktails that need blending are Frozen Margaritas, Pina Colada, and Frosés.
Now that you know the basic essential techniques let's now dig into some advanced techniques that require precision and attention to detail. Surprisingly, they are easy and will make you look like a pro once you master them!
Here are some advanced mixing techniques for you:
 Muddling
This method uses a muddling tool called "muddler" ( a bartender's pestle) for mashing fruits, herbs, and spices to help release their oils and flavors in a sturdy and well-weighted glass. Putting pressure on the fruit or herb while making the twisting motion will give a great result. 
Mojito, Mint Julep, and Caipirinha are cocktails that require muddling their ingredients. 
Layering
A method of floating liquid ingredients to achieve beautiful layers of color in a drink. Knowing the density of the liquids you will use is essential. Lighter ingredients are the ones with higher proof or less sugar in them thus; they always go on to heavier ones like syrups and cordials. Precision is a must when performing this technique. Use the back of your spoon while resting the tip against the wall of the glass. Slowly and carefully pour the liquid according to the recipe's instructions and move the spoon up as the glass fills. Don't rush this process, as it will take a bit of time for the heavier ingredients to settle down to the bottom.
Some examples of layered cocktails are the B-52 shot, Butterball shooter, and Tequila Sunrise.
Flaming
The flaming technique may sound intimidating as it calls for decisiveness and one must be quick to move when executing it; as it goes without saying, its dangerous to play with fire! But more than the theatric vibe it gives, the purpose of this technique is to enhance the flavor and caramelize rimmed glasses. Remember to follow safety protocols:
light the alcohol in a safe spot on the bar counter
tie your hair and
extinguish the flame before consuming
 Rolling
This is basically pouring your mix from one vessel to another, but it requires finesse. This is used when you want to chill your drink fast without diluting it. In a shaker filled with ice halfway, fit in your Hawthorne strainer at a 45-degree angle; on the other shaker, where your mix is. Pour the mixture back and forth between shaker tins 5 to 6 times until your desired coldness is achieved. 
A cocktail that requires this technique is the Bloody Mary.
To top it off, developing the right skills for Cocktail mixing is undoubtedly one of the essentials one must be knowledgeable about to achieve the best results desired in creating a fantastic drink. It can feel terrifying, but with practice and determination, you'll be able to incorporate each technique into your cocktail mixing in no time. 
Remember, learning is a continuous process, so take your time to try and learn things at your own pace. 
Which technique above did you find the most challenging? 
POLICIES & WARRANTY
CELLULAR CONTACT
SMS Text Message:
+1 (845) 498-1395
(cannot accept phone calls)