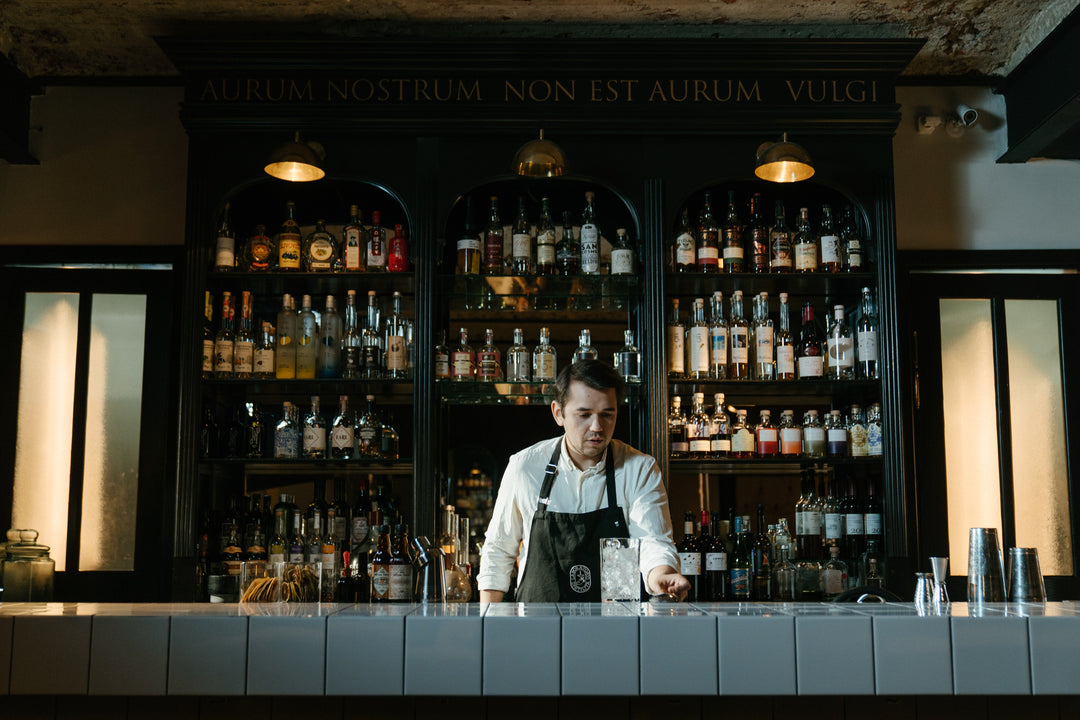 Posted on
---
Have you wondered what the difference between a Mixologist and a Bartender is? We often hear about mixologists and bartenders and think they are the same since they both work around spirits and shake up cocktails. But there's actually a difference between the two, although both play a vital role in creating a delicious and memorable drinking experience.
Let's get to know them better!
BARTENDER
A Bartender, on the other hand, works behind the bar and runs it. The term Bartender also dates back to 1800, although it was believed that the term had been around quite earlier than the term "Mixologist." The first Bartenders can be traced back to the Greek and Roman eras when they relied on artisans to pour their favorite drinks. Even during the prohibition era in the 20th century, bartending culture remained active through underground speakeasies.

A bartender often is certified to mix and serve alcoholic and non-alcoholic beverages to customers. They have extensive knowledge of every cocktail and are expected to maintain the overall smooth operation of the bar, including checking the bar's inventory to ensure no ingredients are running out of stock. They are excellent multitaskers and can simultaneously take orders while entertaining customers. Another superb quality of a bartender is being able to shake up cocktails and pour drinks without making a mistake.
MIXOLOGIST
The terms "Mixology" and "Mixologist" date back to 1800-1900 and were founded by Jerry Thomas, a saloon owner, and bartender. He published "The Bartenders' Guide: How to Mix Drinks, " the first Mixology book in the United States. He was the first of many mixologists in history to have developed the perfect classic cocktails of today.
A Mixologist is considered to be someone who has in-depth knowledge of cocktail components and techniques. One can enroll in a Mixology class to earn a certification where you will learn more about cocktails and theories. It's like having a "Ph.D." in Bartending, but it should be viewed as a natural extension of bartending. 
Mixologists often have a wide range of understanding of the different components and how they can affect the overall drinking experience. They are often described as passionate about creating exceptional and innovative cocktails using simple to complex ingredients. Mixologists often make signature drinks whose primary purpose is to serve the best quality cocktails and not just serve the people.
SIMILARITY IN ROLES
Mixologists and Bartenders are very similar regarding the nature of their roles. Since they work closely with spirits and cocktails, they are often viewed as the same. But if you have come this far in this blog, you will now better understand their difference. 
Their roles are similar because each is a natural extension of the other! A bartender who has been in the bar scene for years often becomes a Mixologist because of the learning and extensive experience. A Mixologist becomes a Bartender by nature due to the workstation demand when working for a bar or restaurant. 
Some similarities in roles are: 
Interacting with customers and keeping them entertained.

Takes customers' orders.

Serving cocktails and beverages to customers timely.

Searching for inventive ideas and following trends to deliver the best drinking experience.

Keeping the bar running and ensuring stocks are enough for the day's operation.
Despite the challenges, mixologists and bartenders love what they do. They take pride in their work and constantly seek new ways to elevate their craft. They are the innovators of the bar and constantly experimenting with new flavors and techniques to create unique and memorable cocktails that will surely be a hit.
So the next time you order a cocktail, take a moment to appreciate the hard work and creativity that goes into your drink. Mixologists and bartenders are the unsung heroes of the bar scene, and they deserve to be recognized and celebrated for their continued search for sustainable and innovative cocktails!
POLICIES & WARRANTY
CELLULAR CONTACT
SMS Text Message:
+1 (845) 498-1395
(cannot accept phone calls)