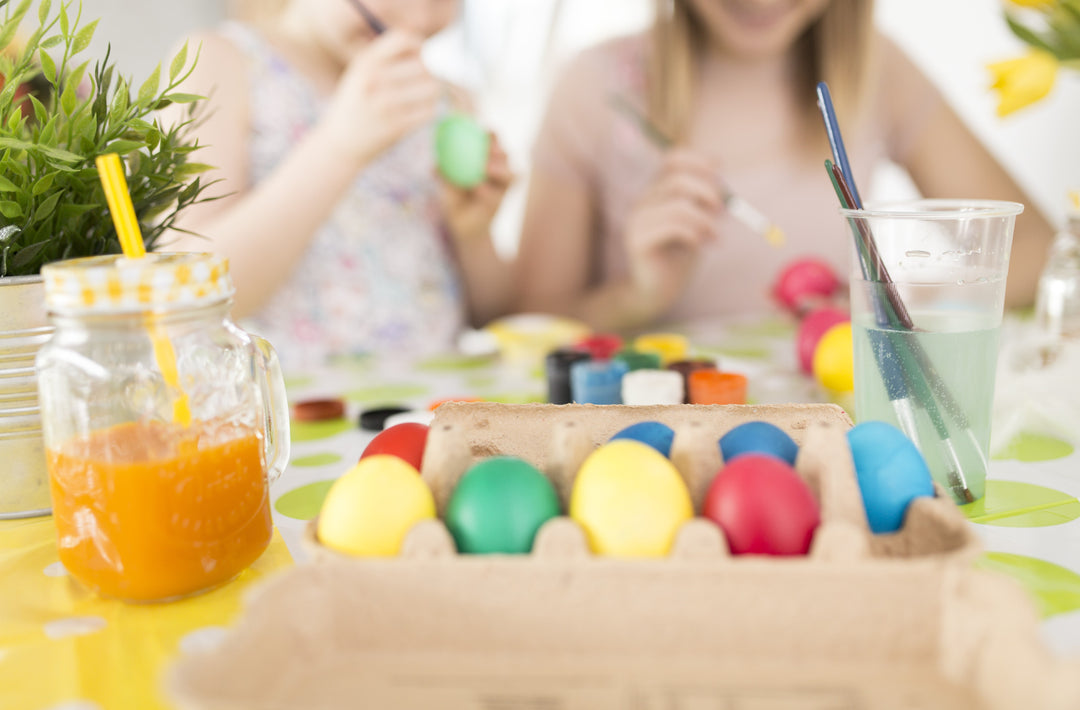 Posted on
---
Can't think of a way to incorporate some Easter flair into your cocktail night celebration? From pastel-colored drinks to fun and playful garnishes, Easter-inspired drinks are a great way to get into the spirit of the season and are sure to bring delight to your guests and family to make the festivity one to remember. Whether you're hosting a brunch or a dinner gathering, these cocktails will add a touch of class and a splash of fun to your gathering.
We curated some Easter-inspired drinks for you to try this year to elevate your Easter celebration! 
The Easter Icons
To Christians, Easter is a celebration to honor Christ's resurrection from death. But not all of its traditions came from the Bible. Some of them were believed to have originated from Pagan traditions. The word was believed to have originated from "Eostre," a Saxon goddess who was praised and honored through a pagan holiday of renewal and rebirth. Easter is observed just a little prior Spring season begins, and its tradition and iconic symbols live on as people continue to commemorate such a momentous festivity.
Here are some symbolic icons, if not all, that are always associated with the season.
Peep Marshmallows
It started in 1910; Sam Born, a Russian Jewish immigrant Sam Born went to New York and started a venture that made a difference in the American Easter celebration. He was also responsible for chocolate sprinkles, hard chocolate coating, and the creation of the machine that inserted sticks into lollipops.

Rodda Candy Co., which originally made marshmallow candy in chick shape, was acquired by Sam Born in 1953. The early method of production requires manually pipping marshmallow fluffs out of pastry bags and shaping them into chicks. Later on, Bob Born, Sam's son, developed an efficient way to minimize its production time through mechanical machinery from 27 hours to six minutes and efficiently make tons of marshmallow chicks. This made the famous Peeps available all year round, adding creations to meet seasonal themes and eventually bunny shapes in 1980. And eventually, more shapes were added over time.
In 1998, the famous chick marshmallow was available in yellow, white, pink, blue, and lavender, matching each hue with corresponding flavors. Of course, yellow is still the most popular of all. 
Peeps are a colorful, fluffy Easter staple. You can also pair the soft treat with some wine or beer, or you could create a Peeps-inspired flavor-infused drink and add some pastel food coloring to mimic the bright colors of Peeps. 
Here are some of the interesting and delicious peep flavor-inspired cocktails you can try:
Peeps Raspberry Lemonade Cocktail
Cherry Marshmallow Cocktail Recipe
Peeps Cocktail - Strawberry Mudslide
Carrots for Bunnies
Carrots originated in Iran and Afghanistan. Belongs to the parsley family and is related to a whole lot of herbs and root vegetables. But did you know that in the 17th century, most carrots are of shades of purple, white, and yellow? Yes, you heard it right! Containing about 32,000 genes where, two of which are responsible for carotenoid build-up, and thanks to selective crossbreeding, Dutch farmers were able to improve crop production.
It was also believed that orange carrots were being promoted in honor of William of Orange in the 16th-century revolt against the Spanish Habsburg monarchy. But how was it associated with Easter? It began in the a1934 film "It Happened One Night," starring Clark Gable, where he was talking and munching on a carrot, which led to the creators of Bugs Bunny mimicking Gables' mannerisms, including the carrot scene. 
Bugs Bunny became so popular that it was commercially portrayed that rabbits which is an iconic Easter symbol, love to eat carrots, although this is not always true as rabbits do not really love carrots per se, but the leafy greens grow on top of it. Hence, its presence became a part of the Easter tradition.
The carrot-flavored desserts are a classic Easter treat, with their warm, spiced flavors perfect for the season. You could create an Easter-inspired flavor by infusing your drink with the flavors of carrot and some cinnamon, nutmeg, and vanilla for a richer taste.
Here we curated some game-changer carrot flavor-inspired cocktails:
Easter Bunnies and Eggs
The egg is seen as a symbol of new life, while the bunny is an ancient symbol of fertility and new life of Pagan tradition in celebration of the coming Spring season. Both of these were also associated with Christ's emergence from his tomb. 
German immigrants brought with them their tradition of an egg-laying hare in 1700 when they went and settled in Pennsylvania. Their children would weave nests and paint bright colors on eggs which became decorated baskets that required to be filled with chocolates, candies, and other forms of gifts. Eventually, this tradition was adopted, and the consumption of chocolate candy in egg and bunny shapes became part of the modern tradition that was added through the years.
Chocolate creme-filled eggs and Hollow chocolate bunnies are beloved Easter candy treats, and their sweet, creamy filling is perfect for an indulgent dessert or drink. You could create a chocolate-flavored drink using milk chocolate and vanilla to enhance its rich flavor.

Here are some must-try chocolate-flavored cocktails:
Salted caramel rum hot chocolate
Easter-inspired cocktails provide a fun and unique way to celebrate the festivity. Whether you're hosting a gathering, enjoying date night with friends, or simply looking to try something new, these festive drinks are sure to please. So raise a glass and toast to the season with one of these delicious Easter concoctions!
Are you up to trying some Easter-inspired cocktails?
POLICIES & WARRANTY
CELLULAR CONTACT
SMS Text Message:
+1 (845) 498-1395
(cannot accept phone calls)