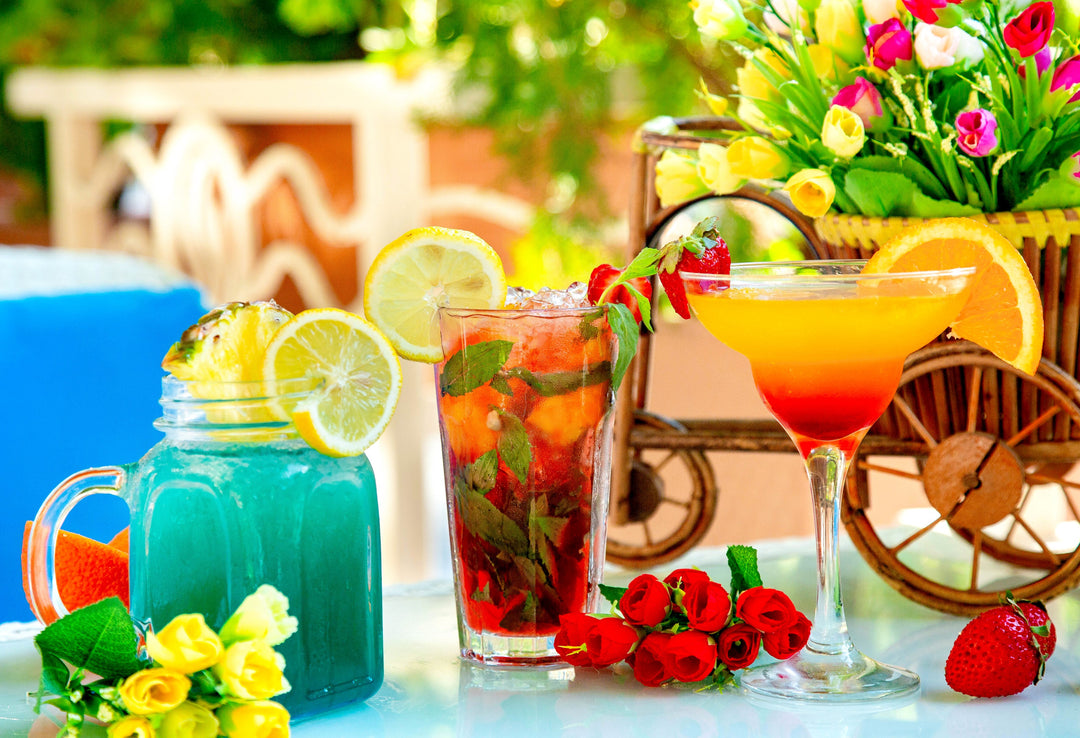 Posted on
---
As the world awakens from winter sleep, the air is filled with the sweet scent of blooming flowers. It's a time of new beginnings, and what better way to celebrate than with a refreshing and vibrant floral cocktail? The possibilities are endless, from delicate floral notes to bold and aromatic flavors.
Dust off your cocktail shaker as we welcome the spring season with an exciting floral flavor! From lavender and rose to elderflower, the delicate aromas and vibrant hues of floral drinks are the perfect way to celebrate the arrival of the new season. Raise a glass to the season of renewal and be delighted to explore new cocktail flavors together!
LAVENDER
In the early days, the Lavender flower that we know today used to be called "spikenard" or "nard" in reference to the "city of Naarda" in Syria, where the flower was first discovered. It was used as a medicinal plant more than 2000 years ago due to its cleansing and healing properties. It's also known for its soothing and relaxing effect and was used for various ailments like insomnia, headaches, toothaches, and digestive disorders.
Lavender is a beautiful and versatile herb used for centuries for its calming nature. But did you know lavender can also add a unique and delicious flavor to your favorite drinks?
Lavender's floral and delicate flavor pairs well with citrus, berries, and chocolate. A sprig or two of the flower added to a cocktail or mocktail can elevate the flavor and make a truly memorable drink. Fourteenth century's The Forme of Cury listed the "Spanish Nard," a variety of lavender, as one component to make spiced wine or "hippocras." 
Infusing the flower into a simple syrup is one of the easiest and most common ways to use it, which can be used for various drinks. This syrup can add a lovely lavender flavor and color to drinks like gin and tonics, lemonades, and even champagne cocktails.
In addition to its taste, lavender is also known for its beautiful color, which adds a stunning aesthetic to cocktails. So, consider incorporating the lovely flower herb for a unique twist to your cocktails.
Here are some Lavender flavored cocktails you can try:
ELDERFLOWER
Native to the British Isles, Elderflower's name was derived from the Anglo-Saxon word 'aeld,' the goddess of vegetation. It was believed to be the oldest cultivated herb. In the 17th Century in England, Elder trees were thought to be able to ward off evil and plagues.

During the 16th to early 20th century, Native Americans began using Elderflowers for their medicinal properties. The flower was used to make a popular drink known as elderflower water by infusing the flower with hot water. The drink was believed to have healing benefits and was used to treat various health issues.
At the same time, the flower became a popular ingredient in cooking and baking and was also used for desserts, from cakes to jellies. One of the best ways to use the flower is to make an Elderflower syrup or cordial. Its delicate and floral flavor is often described with notes of citrus and vanilla, which have become increasingly popular in cocktails and mocktails.
A simple Elderflower soda, made with elderflower syrup and soda water, is a great way to enjoy the flavor while staying sober. Today, the flower is still used in many ways, from drinks and teas to syrups and sauces.
We have gathered some Elderflower cocktails for you to shake:
Cucumber & Elderflower Spritzer
BUTTERFLY PEA 
Part of the Fabaceae family, it was discovered during the expedition of a German Botanist, Johann Philip Breyne. He named the flower after the Ternate Island in Indonesia in the 1800s. The use of butterfly pea flowers as a food and beverage ingredient dates back to ancient times. It was commonly used in India to make tea, believed to have medicinal properties that could help treat various ailments. 
In Asia, it is added to dishes because of its medicinal benefits, and the flower itself is edible! Due to its unique color and health benefits, the Butterfly pea flower tea has recently gained popularity. The flower is steeped in hot water until the water turns blue/indigo. Then, add some honey, lemon, cinnamon, mint, ginger, or passion fruit. It was believed to have antioxidant properties and may help improve cognitive function and reduce anxiety.
With its use in traditional medicine and cuisine centuries back, the history of the butterfly pea flower is long and rich. Its vibrant blue color and unique earthy and woody flavor make it a popular ingredient in modern beverages, and it will continue to be a staple ingredient in both food and drink for years to come.
You might want to try these Butterfly pea flower cocktails we curated for you:
Butterfly Pea Flower Cocktails

Color-Changing Tropical Moscato Limeade
ROSE
Some thirty-five million years ago, the earliest fossil of a rose was discovered in Colorado. With 150 species, the most adored flower belongs to the family of "Rosaceae." The cultivation of Rose likely began in Asia about 5,000 years ago. In 1300 AD, rose was used as a medicinal plant and was produced in powders and oils.
Persians used to steam rose petals to extract oil and collect rose water. The technique then spread and reached Europe, which today is considered the largest producer of rose oil worldwide. The flower was also used to decorate banquets and gatherings.
The use of roses in culinary and drinks can be traced back to when ancient Greeks, Romans, and Persians all cooks rose and incorporated them in their drinks as they believed they used roses in their cooking drinks due to their medicinal benefits. A symbol of beauty, life, and love, the Rose has indeed become in demand for mass cultivation and production.
From desserts to drinks, rose petals were incorporated into sweet dishes like cakes and pastries with rose water to enhance flavor in medieval Europe. During the 17th and 18th centuries, rose water became a staple ingredient in a  British drink called posset, a hot, spiced, and creamy beverage made with milk, sugar, and ale.
Roses are still used today, leading to them becoming one of the staples in the culinary world: Middle Eastern and Indian cuisine use Rose water in dishes such as biryani, kheer, and kulfi. Rose water is also famous in drinks such as cocktails like the classic Ramos Gin Fizz, which includes gin as its base, lime juice, sugar, cream, egg white, orange flower water, and rose water.
Some Rose flavored cocktails that will blow your mind:
CHAMOMILE
Chamomile, or "Matricaria recutita," is an herb used for centuries for its medicinal and culinary properties. It aids in promoting sleep and treating insomnia and is often consumed as an herbal tea. Its origin can be traced back to Europe, Africa, and Asia and was spread to North America.
Its sweet, fruity apple-like scent gave it the name "ground apple" in Greece and "little apple" in Spain. Chamomile has been used in various dishes and drinks, with its delicate floral flavor and aroma.
The use of chamomile in culinary dates back to ancient Rome, where the herb was used as a condiment and a flavoring agent in sauces and stews. Chamomile was also used in medieval times to flavor mead, a popular alcoholic beverage made from honey.
Recently, chamomile has been used in various drinks, including tea, cocktails, and even beer. Chamomile tea is a popular herbal tea known for its soothing properties and is often used as a natural remedy for stress and anxiety.
Chamomile has also been spreading since it adds unique floral and apple-like notes to the drink. Some popular cocktails are Margarita, Chamomile Sour, and Chamomile Martini.
Chamomile's delicate floral notes and aroma make it a popular ingredient in various dishes and beverages. Whether you're enjoying a cup of chamomile tea, a chamomile cocktail, or a chamomile-infused beer, you will surely appreciate the subtle yet distinct flavor chamomile brings.
Here are some excellent Chamomile cocktails you don't want to miss:
Honey Chamomile Whiskey Cocktail
From the classic and elegant lavender gin fizz to the bold and fiery hibiscus margarita, floral cocktails offer diverse flavors that satisfy even the most discerning palates. They perfectly balance sweet and sour and will impress guests at any springtime gathering.
As the weather warms up and the flowers bloom, take a moment to sip on one of these delightful floral cocktails. Celebrate the season's beauty with every sip, and cheers to the arrival of spring!
POLICIES & WARRANTY
CELLULAR CONTACT
SMS Text Message:
+1 (845) 498-1395
(cannot accept phone calls)