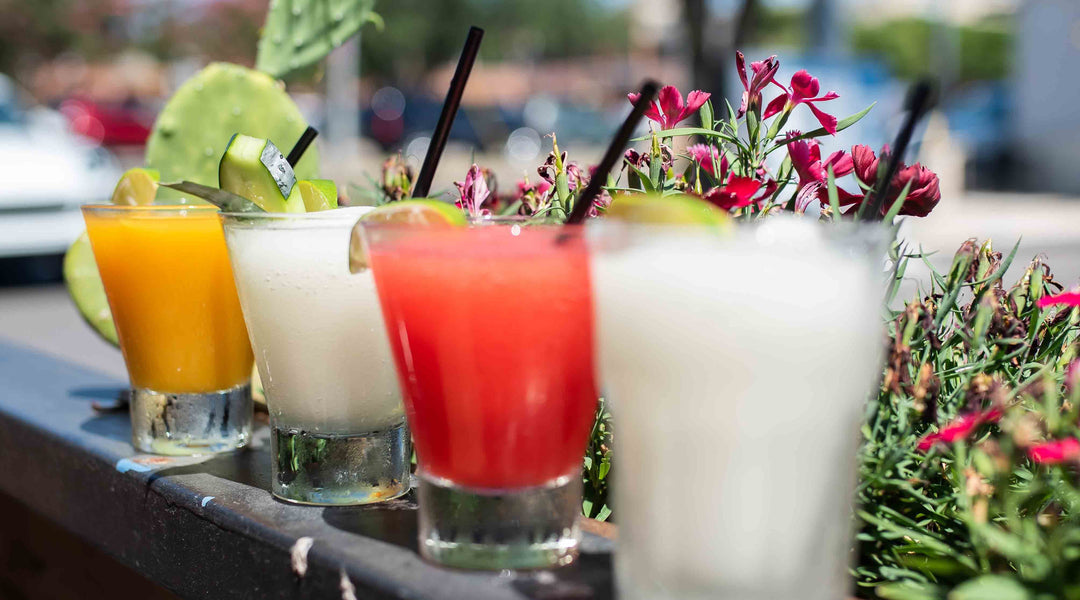 Posted on
---
Whether you're a beginner bartender or a professional mixologist, it's always a good thing to know a thing or two about your craft. So you can strike up a conversation while creating your go-to mixed drink, or when you are at a cocktail party. We will give you a brief history of the most popular alcoholic beverages. For sure you have heard of them at least even once in your life!
Moscow Mule
The first one on our list is the Moscow Mule, a very popular cocktail that has an even more interesting story. 
When you hear "Moscow Mule," I bet you associate it with freshness in an iconic copper mug!  The origin of this cocktail is quite surprising. In 1941, 3 entrepreneurs with their own separate products that were unsellable, were brought together by fate to create the now well-loved Moscow Mule. 
Jack Morgan, owner of the Cock 'n' Bull bar on Sunset Blvd., in Hollywood, brewed his ginger beer that did not become a hit as ginger ale was more popular at the time. John G. Martin, a friend of Jack Morgan, acquired the rights to Smirnoff vodka in 1939, but did not build traction as Americans back then preferred whiskey and beer over other types of liquors. These two men thought of concoctions that would make their ingredients go well together. Then Wes Price, a bartender of Cock 'n' Bull, mixed in fresh lime juice and ice, and voila, Moscow Mule was born!1
But wait there's more to that story. Moscow Mule would not be Moscow mule without its iconic mug. Here enters Sophie Berezinski, who immigrated to the US from Russia bringing with her the 2,000 solid copper mugs which were manufactured and designed by Sophie and her father2. Sophie was entering one establishment to another to sell her copper mugs with no luck. Eventually, she stepped into Cock 'n' Bull when Jack and John were there too. The rest is history.
This icy, spicily refreshing drink that America loves has evolved in so many ways. We have now a mule with an extra kick of Jalapeno, some recipes include a delightful touch of strawberries and other sweet fruits in the mix. Of course, we cannot forget to mention the Holiday Cranberry Mule that perfectly fits the season of giving.
Did that make you more interested and thirsty to try a Moscow Mule? Then you're just one click away from Bare Barrel's classic Moscow Mule recipe. [Insert BB's Moscow Mule recipe page]
Old Fashioned
This cocktail perfectly suits its name, the Old Fashioned, as it is one of the first-ever cocktails created. But because it's called Old Fashioned, doesn't mean that it's out of fashion! This whiskey-based alcoholic drink has been around since the 19th century.
In the mid to late 1900, people used the term "old fashioned" to order drinks that are less complex than the emerging cocktail mixes at that time. Some customers didn't want the recipe innovations back then.
There are various speculations about the true origins of the "Old Fashioned." Some claim that it was first invented in a gentlemen's club established in 1881 in Kentucky, in honor of Colonel James E. Pepper, a well-known bourbon distiller at that time3. However, the term "old fashioned cocktails" had already been used in one of the printed publications of the Chicago Daily Tribune in 1880, which was a year before Pendennis Club was founded.
It seems that the term "old fashioned" had been used to refer to the older and simpler concoction of alcohol and other ingredients in the mid-19th century.
The classic Old Fashioned cocktail is made with sugar, bitters, water, and whiskey, then garnished with an orange peel, as simple as that. But cocktail mixologists keep developing new ways to spice up the Old Fashioned.
Now, there are tequila-based Old Fashioned, some are added with honey and club soda, or smoked with rosemary to add a little bit of twist. Then there are versions on the other end of the spectrum that incorporates cotton candy – what a unique way to enjoy an Old Fashioned4.
Check the Bare Barrel's Old Fashioned recipe here! [insert link to Old Fashioned recipe page]
Margarita
If you're looking for a cocktail that has every taste that you're looking for, then you have the Margarita! It has the agave's sweetness, salt-covered glass rim, the bitterness of the tequila, and the fulfilling sourness of the lime, that complements each other and leaves you with satisfaction in every sip.
Like the several different tastes Margarita offers, there are also a lot of stories that claim to have invented the Margarita. 
One popular story was about Carlos "Danny" Herrera, a Mexican restaurant owner. Danny made a drink for a dancer Marjorie King who is allergic to all alcohol but tequila. However, Marjorie did not like a neat tequila, so Danny added salt and lime, thus, creating the first Margarita in 19385. Another origin theory that is said to be earlier than Danny's claims was a story about an Irishman named Madden in 1936. He accidentally used tequila for a Daisy instead of brandy, which ended up being loved by his customers. This cocktail recipe became famous through word of mouth and was later on called "Tequila Daisy" which appeared in a newspaper story6.
Whichever origin story was true, the important thing is we now enjoy this wonderfully mixed cocktail.
Another good thing about Margarita is it is super customizable to your liking, and you can almost put any fruit in the mix to add interesting flavors. From peach, pineapple, melon, and blueberry, to coconut. You name it, Margarita can handle it.
Wanna try shaking up a Margarita? No bartending class is needed! Just get your Bare Barrel mixology kit and follow our original recipe here. [Insert link to Margarita recipe page]
Mimosa
This fizzy drink suits well with your brunch time favorites and makes your time on the beach well worth it! Just like the Margarita, the origin of the Mimosa is quite a mystery too, even for cocktail lovers. But many sources say that the Mimosa is a variation of a Buck-Fizz cocktail that originated at Buck's Club in London during the 1920s. A brilliant bartender at the Ritz Hotel, Frank Meier, was said to have given a different touch to the Buck Fizz, a diluted version, the Mimosa. However, Frank Meier did not claim that he invented the Mimosa in his book The Artistry of Mixing Drinks78.
The fame of this oh-so-loved cocktail is usually tied to the filmmaker Alfred Hitchcock that popularized it in the 1940s.
Whatever might be true as to how the Mimosa originated, this drink certainly gives us a good reason to drink alcohol in broad daylight.
The Mimosa is a pretty straightforward cocktail that probably every beginner bartender can make, it's basically just orange juice and champagne. But luckily many mixology enthusiasts are so creative and took the classic Mimosa to a whole other level! There are many recipes that incorporate Mimosas with other cocktails. Can you imagine Mimosa and Margarita together or even Beer? Well, to mix is to believe. Some of the peculiarly awesome recipes worth trying are:
Of course, Bare Barrel also has its own classic Mimosa recipe, check it out here: [Insert link to Mimosa recipe page]
Negroni
Isn't it so sophisticated when you see someone drink a Negroni? It can be an acquired taste but it gives you a nice balance of bitterness and sweetness, with hints of fruity and herbal tones. This is why the cocktail has earned its place in the hearts of many over the century.
Making a Negroni is very simple you can probably make it with your eyes closed (not recommended), but its origin is just simply complicated!
It's so complicated that we'll just cut it short. There are two Negronis in history that claims the invention of the Negroni cocktail. The first one is around the 1910s in Florence, Italy, when Count Camillo Negroni, ordered an Americano cocktail (variation of Milano-Torino, a mixture of Campari and Amaro Cora), but asked the bartender Fosco Scarselli to make something stronger, so he swapped soda water to gin, and thus the Negroni was born9,10.
But another origin story is conflicting with Count Camillo's version. Some sources say that it was General Pascal Olivier Comte de Negroni is behind the creation of the Negroni cocktail which was named after him as well. There were even pieces of evidence that pointed to General Pascal Olivier Negroni, such as preserved letters when between the 1850s to 18609,10.
There it is, hope you liked our simplified origin stories for our loved Negroni!
Even though this gin-based cocktail is a cult favorite, we can't stop brilliant bartenders to continue innovating the Negroni, and one of the many results of this is the Boulevardier, another classic that is considered a variation of the Negroni but the main alcohol is bourbon whiskey. Do you fancy something lighter for an aperitif? White Negroni is for you, it's a blend of gin, Lillet Blanc, and Suze.
Go ahead and make your own Negroni at home, here's our recipe to guide you through: [Insert link to Negroni recipe page]
Mojito
It seems that the origin stories of the cocktails in this article are getting harder and harder to trace but becomes even more interesting, don't they? This refreshing cocktail is something you would crave on hot summer days. And your cocktail party favorite, for sure.
One can argue that the Mojito is one of the most well-known cocktails in this modern world. But in the not-so-modern times, which was around 1586, there was a drink called Draque (a.k.a Drake or Drak), it is said to be where the Mojito was derived from. This is a concoction of sugar, lime, mint, and aguardiente de caña (a liquor made from cane) and was known to be a medicinal drink that was invented on a ship of an English explorer, Sir Francis Drake, to relieve colds and fever. The Draque stayed for a couple of hundred years. Then it was finally named "Mojito" when the Bacardi switched araguardiente de caña to rum11.
One of many Mojito origin theories was about the African slaves who were brought to Cuba in the 19th century to work on sugarcane fields. According to some sources, the drink's name came from the African word "mojo", which means spell or a magic charm, it can also be related to the Mojito's medicinal qualities11. What a bewitching story!
For those who want to spice up their mixology game and put their bartending kit to the test, Mojito is one of the best cocktails to craft. Why? Because it would need muddling, straining, and shaking! This citrusy cocktail has been with us since the 19th century, and there are certainly tons of different recipes that would keep you busy in your home bar. Try using basil instead of mint, then slices of white peach, and blueberry for an extra fruity punch. If you think that the classic Mojito is not refreshing enough, then nothing would make your Mojito more than adding cucumber to it.
You can also practice on Bare Barrel's Mojito recipe here, perfect to try with our premium mixology kit! [Insert link to Mojito recipe page]
Long Island Iced Tea
Too thirsty for alcohol but undecided to choose what to drink? Then go for the Long Island Iced Tea. This cocktail popularized mainly during the 1970s, is a concoction of not one, not two, but five different alcohols! You've got your gin, vodka, white rum, tequila, and triple sec. It might be the reason why this is the go-to alcoholic beverage for college students. 
We're going to tell you the two disputing origin stories of this intoxicating drink. In the 1920s a man named Charlie "Old Man" Bishop from Long Island in Kingsport, Tennesse invented the Long Island Iced Tea during the Prohibition era, a time when there was a ban on the sale, consumption, and production of alcoholic products from 1920 to 1933. Whiskey was used instead of triple sec and it was mixed with maple syrup. When you think of it, the creation of a cocktail like this at the time of Prohibition just makes sense because people might be deprived of booze and needed a higher level of alcohol content12.
The second story was around the 1970s, which was fairly recent. In Long Island, New York, a former Oak Beach bartender named Robert "Rosebud" Butt claims to have invented the Long Island Iced Tea for a cocktail-crafting contest. His recipe is similar to the Long Island Iced Tea that we now know, which has a triple sec and splash of cola12.
So whose story is more convincing, Old Man's or Rosebud's?
Many variations of Long Island Iced Tea have risen and are enjoyed by cocktail enthusiasts. All are surprisingly easy to make, no need to go to a mixology school! A little addition or one ingredient change can result in a tasty variation. Add whiskey, you get Texas Tea. If you want to sip something new to your taste buds, swap the triple sec with Midori (melon liqueur), and pour lemon-lime soda instead of cola, you get a Tokyo Iced Tea. When you replace cola with cranberry juice... tada! You've made yourself a Long Beach Iced Tea.
If you miss your classic College days favorite, here's our Long Island Iced Tea recipe: [Insert link to Long Island recipe page]
P.S. Don't forget to drink a lot of water the day after.
White Russian
Are you surprised that this creamy cocktail would be part of this list? Well, you'll understand in a second.
We're so used to drinking cocktails that are fruity and/or citrusy, so when the idea of mixing coffee and cream on alcohol may be odd for some. The White Russian was on the verge of being obscure as it didn't have as many fans as other famous cocktails like the Margarita or the Old Fashioned.
Ok, let's start the storytelling. Unlike other popular cocktails, the origin story of this sweet intoxicating drink is not complicated. In the late 1940s in Belgium, Gustave Tops crafted the first Black Russian cocktail, and in the 1960s people started adding cream to this concoction that became the White Russian. And yes, the White Russian and the Moscow Mule are not made in Russia but were named that way because of vodka, which is originally from Russia13.
Before this dessert-like drink was nearly forgotten, it was brought to the big screen in 1998. White Russian was repeatedly featured in the film The Big Lebowski and eventually, it rose to fame again13. This White Russian is truly resilient!
This will excite alcohol-loving sweet tooths out there because White Russian variations are super easy to make! If the sugar on the classic White Russian is not enough for you, try adding Salted Caramel Syrup to the mix to make a delightful drink! Of course, everyone deserves to indulge, so for our vegan friends, replace the heavy or half and half cream with Cashew Milk, then add your favorite Chocolate Syrup, for a vegan-friendly vodka drink. Yum!
Can't wait to craft a mouthwatering White Russian? Here's our recipe: [Insert link to White Russian recipe page]
Bloody Mary
It's so amazing how cocktails have unique characteristics of their own that satisfies our different cravings. Remember Margarita, where the 4 basic tastes are present, and the umami taste is the only basic taste missing. Well, the umami taste you're looking for can be fulfilled by the Bloody Mary! 
This vodka-based aperitif-appetizer hybrid that gets your taste buds excited also has an interesting but quite debated origin. However, the most well-known story is of Fernand "Pete" Petiot. In the 1920s, it was said that Pete, a bartender in Harry's New York Bar in Paris, first created the first version of Bloody Mary by mixing equal parts of vodka and tomato juice. Around the 1940s, Pete added back pepper, cayenne, Worcestershire sauce, Tabasco sauce, and lemon to the drink14.
The other story was about George Jessel an actor and socialite, called the "Toastmaster General of the United States", for he was frequently the master of ceremonies at many huge gatherings. According to George's book, The World I Lived In (1975) when he was in Palm Beach in Florida in 1927, he invented the Bloody Mary to help them cure a hangover by mixing "Worcestershire sauce, some tomato juice, and lemon" to kill the smell of the vodka14.
If you're the imaginative type, you can certainly sharpen your skills by making your own recipe for the Bloody Mary! This cocktail is so flexible and has a lot of space for creativity, you can add different garnishes that would suit your preference. There are recipes where they mix cooked meat or even raw oysters, just make sure to give it a good shake with your Bare Barrel cocktail shakers!
Check out this link to follow our very own Bloody Mary recipe [Insert link to Bloody Mary recipe page]
Tequila Sunrise
Many people may agree that the appearance of the Tequila Sunrise is as beautiful as the feeling it gives you when it touches your taste buds. This cocktail is so popular that the use of its name has been prevalent in pop culture. 
The origin story of the Tequila Sunrise is not as complicated as other cocktails, but enthusiasts have their debates about its history. At this point, it may seem normal to hear different origin stories because cocktail recipes typically evolve with time and preference. Based on some sources, the first version of the Tequila Sunrise was served in Agua Caliente, a racetrack hotel and resort in Tijuana, Mexico, around the 1930s. The second story was about Gene Sulit, a bartender at the Arizona Biltmore resort's Wright bar. The cocktail was then named "Biltmore Original Tequila Sunrise." Its ingredients back then were tequila, crème de cassis, fresh lime juice, and soda15.
Whoever created the Tequila Sunrise first, we cocktail enthusiasts are grateful for this bright and easy-to-make cocktail we can drink any time of the day!
The classic Tequila Sunrise is charming enough as an alcoholic beverage, but of course, sometimes we want something out of the ordinary. Quick bartending tips coming up! Experiment with something spicy and put Jalapeno slices! You can also add Aperol for a hint of bitterness that goes well with the fruity flavor of your cocktail. 
Excited to make your own Tequila Sunrise before sunset? Then, we've got you covered with this recipe: [Insert link to Tequila Sunrise  recipe page]

We hope this listicle gave you a nice and sweet summary of your easy-to-make cocktails. Go now and amaze your friends with the new knowledge that you have while serving them your homemade cocktails!
References
1 Worlds Best Bars (2020). The True story of the Moscow Mule, the drinking world's first viral sensation.
2 Moscow Copper. How it all started.
3 Crockett, Albert Stevens (1935). The Old Waldorf-Astoria Bar Book.
4 Town and Country Mag (2017). 15 New Takes on the Old Fashioned.
5 Rebecca Rupp, National Geographic (2016). The Thirst-Quencing History of The Margarita.
6 Molly Harris, Tasting Table (2021). The Origin of the Margarita Is More Complicated That You'd Think.
7 Sophia Devito, Chilled Magazine. Drink in History: The Mimosa.
8 At The Tap (2019). The History of the Mimosa.
9 Cocktails For You. The Confusing History of the Negroni.
10 Simon Difford, Difford's Guide. Negroni Story.
11 Simon Difford, Difford's Guide. Mojito Cocktail Story.
12 Julia Goicochea, The Culture Trip (2017). The Story Behind the Long Island Iced Tea.
13 Vine Pair. White Russian Recipe.
14 Simon Difford & Jack McGarry. Difford's Guide. Bloody Mary Cocktails - How to Make & History.
15 Nicole Digiose, Chilled Magazine. Drink in History: Tequila Sunrise.
POLICIES & WARRANTY
CELLULAR CONTACT
SMS Text Message:
+1 (845) 498-1395
(cannot accept phone calls)