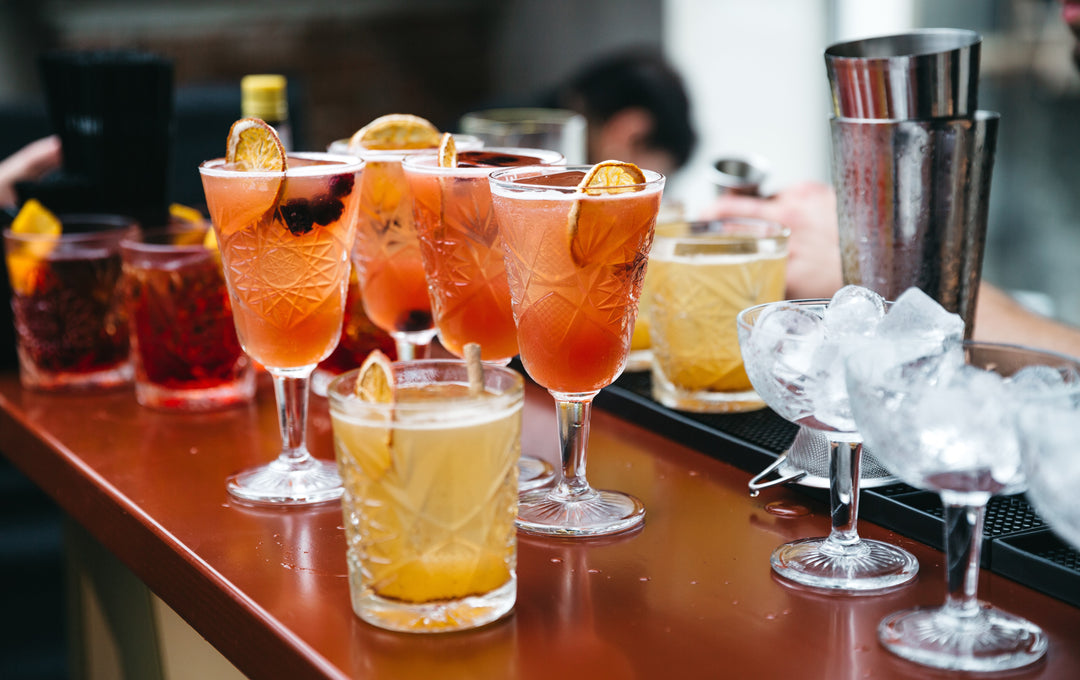 Posted on
---
A mobile bar present at your party can add a touch of sophistication and excitement to your event. One of the greatest benefits of having a mobile bar at your party is convenience. Instead of traveling to a bar or hiring a professional bartender, you can bring the bar anywhere you want your party to be. Mobile bars are designed to be quick and easy to set up, so drinks can be available immediately! Another advantage is that it provides flexibility. You can customize the bar to fit your party theme and offer a wide range of cocktails to cater to your guests' tastes. 
Additionally, a mobile bar helps keep the party going by offering an inclusive and socially fun atmosphere where guests interact and enjoy their tasty drinks. It enables you to create an even more memorable experience that your guests will be sure to remember.
Less fuzz
Having a mobile bar at your party can make your life much easier. From planning to preparations, it sure gets a lot of load off your shoulder. Having a professional bartender to shake cocktails consistently and continuously makes the party more accessible and fun, eliminating the worry of your guests needing more cocktails. A mobile bar takes up less space than a full-sized one, making it ideal for smaller events or outdoor happenings. All your booze needs and cocktails ingredients are stocked up too! So, whether you're planning a family gathering, a corporate event, or a barbecue party, consider hiring a mobile bar to create a more fun experience.
Fits your Theme/Personalized theme
When planning an event, one of the critical factors is the ambiance. Creating the right atmosphere can make or break your event, and one way to do this is through party themes. Mobile bars are a popular party addition; the best ones offer customized themes to match the event. From tropical beach themes to vintage saloons, the sky is the limit regarding options. These personalized themes can elevate the entire experience for guests and create a cohesive look and feel. With the right decorations, lighting, and music, a mobile bar with a customized theme can transport guests to a new place and time. It adds a unique touch to the event, making it more memorable and enjoyable for your guests.
Package deal
One of the rapidly increasing popular addition to every event and party is the Mobile bars. They offer unique and convenient ways to serve beverages to guests, and you don't have to spend hours planning your cocktail menu and setting up the bar. One of the most significant benefits of having a mobile bar at your party is its low-cost deal. Mobile bars typically have a wide range of pricing options and packages, making it easy to find the one that fits your budget. Additionally, mobile bars often offer customizable packages, allowing you to choose precisely what you want and avoid paying extras. You can provide your guests with a fun and great experience without breaking the bank and your budget by hiring a Mobile bar service.
Portable
One of the biggest advantages of hiring a mobile bar at your party is its convenience to transport and set up. Mobile bars are designed to be portable, which means you can take them anywhere you want. If you're hosting a party at home or at a venue, a mobile bar can be an effective way to go if you like something easy and quick. This makes it an ideal option for outdoor events and corporate gatherings, or even festivals! With a mobile bar, you don't have to worry about guests' running out of options for drinks cause you can always set up multiple stations around your venue to ensure that everyone has easy access. Plus, they are usually equipped with wheels, which makes it more convenient to move around and rearrange them to suit the needs and customization of your party.
Professional Service
Hosting a party is an intricate task, but hiring a mobile bar service can take the hassle out of spending extra time planning drinks for your guests and party. Professional mobile bar services offer a wide range of drinks plus a unique and enjoyable experience that a professional bartender can offer, which adds a touch of sophistication to any party and event. From custom-made cocktails to full bar set-ups, these services offer a range of options to cater to your needs, even mocktails. A team of expert bartenders is provided to shake and serve delicious drinks that are tailored to your guests' liking. With a mobile bar service, you can sit back, relax, and enjoy the party just like a guest, knowing that your guests are being served by experienced professionals. So, if you want to elevate your next party, consider hiring a mobile bar service to ensure a memorable and enjoyable experience for all.
A mobile bar at a party is definitely a game-changer. It provides not only a hassle-free way to shake up and serve cocktails but is also very convenient for your guests! It certainly adds class to the overall atmosphere of the party. A mobile bar service is also easily customized, allowing you to choose the drinks and themes that match the vibe of your event. Moreover, it eliminates the need for you to worry about cleaning up after the party. 
So, if you're looking for a unique and unforgettable addition to your next event, consider hiring a professional mobile bar service and experience it for yourself!
POLICIES & WARRANTY
CELLULAR CONTACT
SMS Text Message:
+1 (845) 498-1395
(cannot accept phone calls)