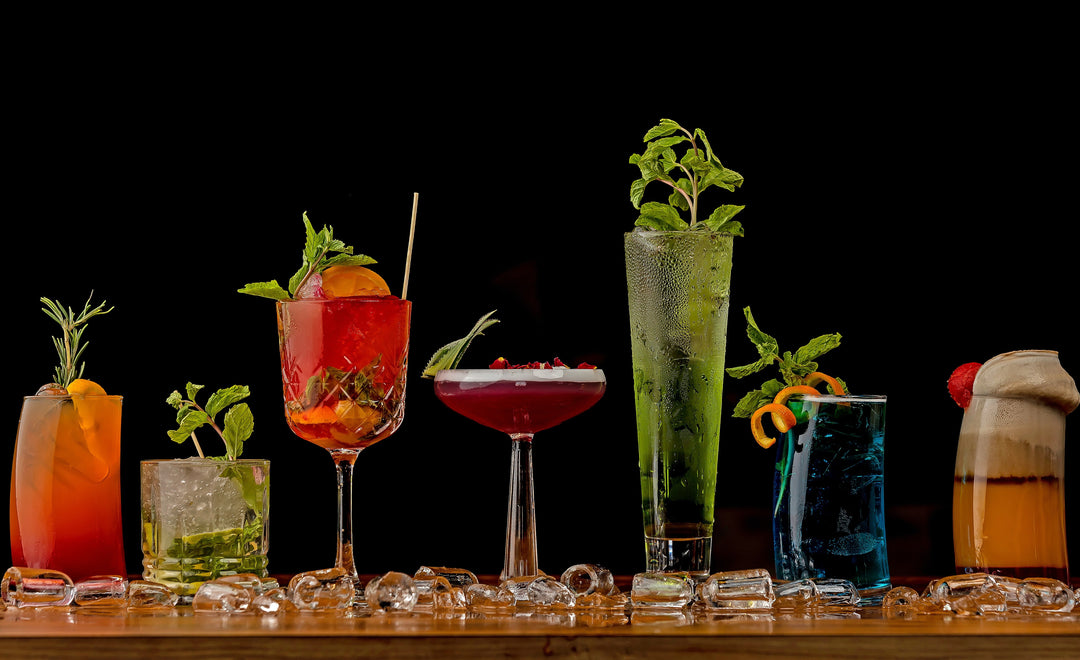 Posted on
---
Cocktails are not just simply drinks but also a blend of art, science, and culture that tells a unique story of one's origin, local produce, and tradition. From classic drinks to modern-day cocktails, they are indeed a true expression of creativity and craftsmanship. Each has its special characteristics and identity to showcase. So, raise your glass, and let's dive deeper on this cocktail journey together as we discover each drink's rich flavors and history around the world!
ASIAN COCKTAILS
Kamikaze
Kamikaze cocktail was believed to have been created during World War II within an American Naval base in Japan. The word Kamikaze which means "divine wind" in Japanese translation, was derived from the pilot warriors who fought for Japan during the war.
The drink combines vodka, triple sec, and lime in equal proportion. Bartenders usually love it to mix as it is very easily prepared and garnished with lime, lemon, or maraschino cherry. It can also be inferred that it is similar to a Margarita when you substitute vodka for tequila. You can enjoy the classic drink in three ways: straight up, shot, and on the rocks! 
Singapore Sling
Raffles Bartender Ngiam Tong Boon created this gin-based drink in 1915. In the earlier days, women are not allowed to consume alcohol in public as it is a deviation from etiquette. They usually have teas and fruit juices instead during gatherings and bar visits.
Ngiam saw an opportunity to cater to women's drinking demands, so he invented a pink beverage that became a socially acceptable punch for ladies to drink in public. It contains pineapple juice, lime juice, curacao, and Benedictine giving the drink a pretty pink color which perfectly represents femininity.
The Singapore Sling cocktail became an instant hit and later became the nation's drink.
AFRICAN COCKTAILS
Dawa
Dawa, a Swahili word for 'medicine, was invented at a restaurant called The Carnivore in Nairobi. Samson Kiveleng, who used to work there, came up with the drink after opening the place in the 1980s. Not only is the drink refreshing, but all of its ingredients you probably already have in your kitchen. A Dawa is a mix of honey, lemon, vodka, and ice muddled by a Dawa stick. The drink was treated as a medicine to prepare someone's appetite for meat. 
Thirty years later, the restaurant where it all began still thrives thanks to its signature drink.
Chapman
African Sangria cocktails, or Chapman, were invented out of the loving, creative mind of the famous hotelier Mr. Samuel Alamutu. Because of the nature of his job, he used to frequent many functions and was a connoisseur of some of the world's top-quality wine and champagne. He would always bring his family with him, especially his wife, who would always turn down alcoholic drinks and ask for Fanta, sprite, or ginger ale instead. This led him to come up with a drink that his wife would enjoy. And so the Chapman came to be.
A combination of soda, mostly Fanta and sprite, mixed with grenadine for vibrant color and Angostura bitter for added flavor, the drink became an instant hit and was loved by his wife and many!
NORTH AMERICA
Mai Tai
The drink Mai Tai, which translates as "Out of this world" in Tahitian, was invented in 1944 by a barman in Oakland named Victor Bergeron, who runs a Polynesian-themed bar under its then alias "Trader Vic's." This mixture of rum, lime juice, orgeat syrup, and orange liqueur, sometimes bitters or grenadine, became known not until Elvis Presley in his movie and has since been associated with Polynesian style and Tiki culture. 
There have been changes to the original formula of the Mai Tai cocktail due to supply availability, and it wasn't until 1960 that it became the most-ordered drink globally.
Margarita
A combination of tequila, lime juice, and Cointreau, served in a Margarita glass rimmed with salt or sugar, is more than just a girl's name. The drink's history is somewhat blurry as there have been few versions involving different personalities. But its widely known version of account was in 1938 when a bartender and a restaurant owner in Tijuana, Mexico named Carlos "Denny" Herrera created a tequila-based drink with added lime juice and salt for a girl named Marjorie King, whose allergic to alcohol except for tequila. Another version was that the drink was named after Margarita Sames, who claimed to have mixed tequila and Cointreau for her friends at her villa in Acapulco in 1948. 
Margarita cocktails spread among socialite people close to Sames and landed on every hotel bar's menu. 
SOUTH AMERICA
Chilcano
This drink was a recreation of Buongiorno, a cocktail drink introduced by Italian immigrants to Peruvians in 1800. It's a mix of Grappa, lime juice, and Ginger Ale beer, which captures a lot of Peruvians, so when the Grappa ran out, they started to use their local Pisco, an alcohol base from distilled fermented grape juice. In the 20th century, some locals poured a dash of Angostura bitters to give it a more complex flavor profile. 
Chilcano was derived from a popular fish head soup which is a great hangover cure for the same reason, hence the common name.
Caipirinha
Hailed as the National drink of Brazil from the root word "caipara" in Brazilian Portuguese, which translates to "rural people." This cocktail drink combines cachaça, fermented sugarcane, sugar, and lime juice. The drink was believed to have been created to prevent catching the Spanish flu in 1918 and was said to have honey and garlic in it originally. Slave traders from Europe used to take the drink while sailing back to Portugal to prevent scurvy, a vitamin C deficiency disease, which was just another version of its beginning. Lastly, another popular history was about the farmers of Sao Paulo who invented the drink as a showpiece to present the local products of their land.
Caipirinha is traditionally prepared in a large container which is great for sharing, but one can have it in an old-fashioned glass with a lime wedge garnish.
EUROPE
Negroni Sbagliato
In 1972, a bartender in Milan, Mirko Stocchetto, accidentally grabbed prosecco, a sparkling wine, and mixed it with Campari and sweet vermouth hence the Italian name which translates to "wrong Negroni." The prosecco gave the drink softer tones, making it drinkable and enjoyable to people who are not fond of strong cocktails.
This Italian drink may have started as a mixtape, but today, it is one of the most sought-after drinks and is considered traditional all across Italy and Europe.
Kir
This drink was named after a Catholic priest Felix Kir who remained in the City of Dijon, Burgundy, during the Nazi war to help more than 4,000 war prisoners escape. To mimic the red hue of the city's confiscated iconic red wine, The Kir cocktail is a mixture of dry white wine called an Aligoté and crème de cassis or blackcurrant liqueur. It became the city's official drink through Kir's effort and symbolized perseverance and self-determination. He then became the City Mayor from 1945 until he died in 1968. 
Due to continuous innovation, the classic Kir birthed another variation called Kir Royale, which substitutes dry white wine for champagne.
AUSTRALIA
Japanese Slipper
Jean-Paul Bourguignon, of French descent, who was at the time working for Mietta's Restaurant in Melbourne, Australia, in 1984, created a cocktail that became a game changer for Australia's new generation of drinkers. When a sales representative brought Midori for him to try, he thought of combining it with Cointreau and fresh lemon juice. Japanese Slipper became an instant hit and was considered one of the International Bartenders Association classics. It's a sweet yet tart drink in a bright green color that captures the modern-day concept of a cocktail. Its name was believed to have been inspired by the Japanese translation of Midori, which is "green," and at the time, Bourguignon was still learning the English language and came across the word slippers to which he is unfamiliar, hence the name Japanese Slipper.
The drink spread rapidly in three years when Bourguignon left Mietta's in 1985, bringing it with him and adding it to every cocktail list he created for hotels, airlines, and casinos he worked for.
Death Flip
Chris Hysted-Adams, the man behind creating the iconic modern-day cocktail, had its first appearance on the Black Pearl Menu in Melbourne, Australia, in 2010. The drink is a mixture of tequila, yellow Chartreuse, Jägermeister, and an egg. Considering what customers prefer, he developed a drink combining the three most popular bases in a cocktail. He balanced the flavors and proportions to achieve the desired result. It is garnished with a dash of simple syrup, an egg shaken to get that frothy top texture, and some grated nutmeg.
The drink's description, "You don't want to meet this cocktail in a dark alley," captured the curiosity of many, contributing to its popularity. According to Adams, he considered his creation badass and named the drink after a skateboarding trick, "death flip." As his words were, "A drink this badass needed a badass name to go with it."
ANTARCTICA
If you don't know by now, there is this "U.S. Antarctic Program Code of Conduct" for every scientist and researcher in Antarctica that prohibits the production/consumption of alcoholic drinks. But that didn't stop them from having happy hour whenever they could. There are several pubs and bars around the place, but Gallagher's Pub in McMurdo Station is the go-to place for most. Aside from locals drinking melted snow, one of the most popular drinks is Beer and, of course, some signature drinks from the largest social hub in the continent. 
The McMurdo Mule cocktail is the pub's signature drink that uses Jameson Irish Whiskey as its base mixed with lime juice and ginger beer served in a mug or highball glass.
Whether sipping on a margarita on a sandy beach or a martini in a bustling city, cocktails can bring people together, foster conversation, and add a touch of sophistication to any occasion.
The beauty of cocktails is in proper balance and use of ingredients. It is blending different local produce to create something nostalgic and truly one-of-a-kind. Drinks bring people together and create a sense of belongingness while sharing stories over a nice cocktail.
With the rise of mixology, cocktails have never been more popular, and trends and innovations keep coming. So, the next time you're looking for a drink that's a little bit different, consider exploring the world of cocktails. You might just discover your new favorite drink!
POLICIES & WARRANTY
CELLULAR CONTACT
SMS Text Message:
+1 (845) 498-1395
(cannot accept phone calls)