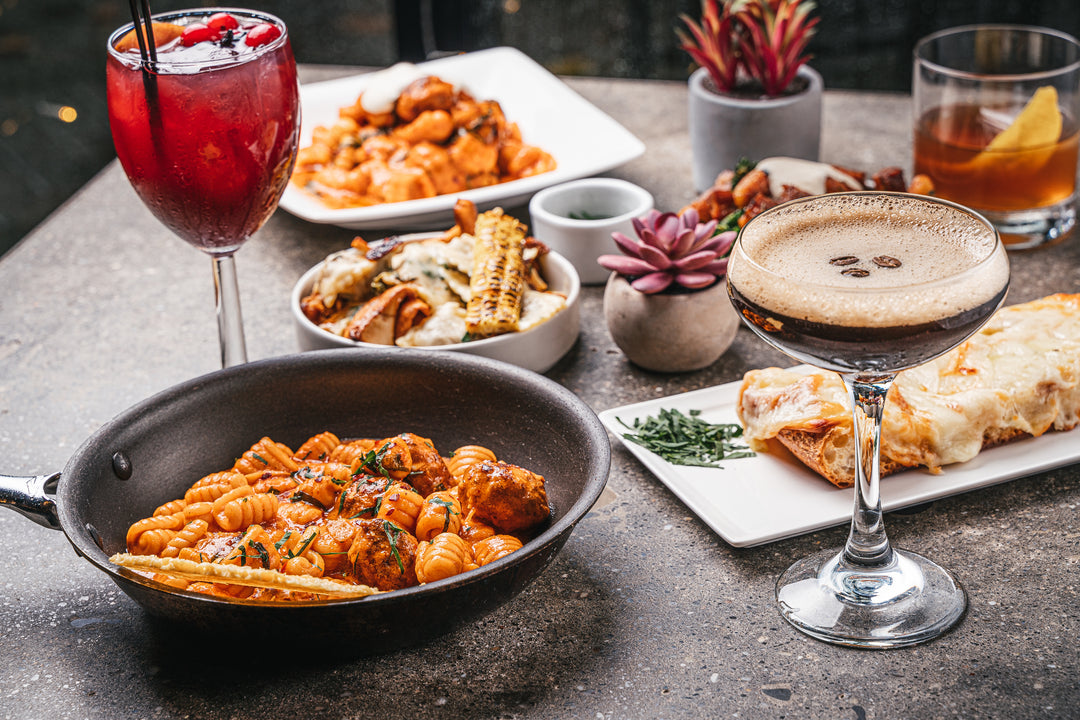 Posted on
---
Whether you're hosting a dinner get-together or enjoying an evening outside with your family and friends, cocktail pairings can boost your dining experience and bring it to a whole new level. The perfect drink can superbly complement the flavors of your food, amplifying your overall satisfaction with the meal experience. The possibilities are unending, from classic pairings like wines and cheeses to modern combinations like a Spicy Margarita with a rich steak. So, if you want to take your taste buds on a hearty journey, join us as we explore the exciting world of cocktail pairings!
Flavor Balance
When it comes to finding the perfect cocktail pairing with food, it's all about achieving balance and not overpowering other components' flavors. The right cocktail can enhance the flavors of a dish and create a harmonious experience for your taste buds. One way to achieve balance is to match the depth of flavors in both the drink and the dish. For example, a bold and spicy Bloody Mary cocktail would pair well with a savory breakfast dish like eggs Benedict. On the other hand, a light and refreshing Gin and Tonic would complement a fresh salad or seafood dish. 
Another method is contrasting flavors, such as pairing a sweet cocktail with spicy or salty food. For example, a Margarita with sweet notes would balance out a spicy taco's heat. Ultimately, one of the vital factors in balancing cocktail flavors with food is to explore and search for the perfect pairing that suits your taste buds. In the end, it's just a matter of finding the common attributes of flavors of both the drink and the food.
Cuisines Matching
Enhancing the overall dining experience lies in the right way of matching cuisine with a cocktail. When pairing cocktails with cuisine, it is essential to consider the flavors and aromas of both the drink and the food. Correspondingly, a margarita with jalapeño and lime would go with a Mexican dish with similar flavors. Italian flavors and dishes such as cheese and cold cuts will call for Spritzes and Negroni.
Experimenting with different cocktails and cuisines is a fun and exciting way to discover unique flavors and textures. Whether you're a fan of classic cocktails or prefer to experiment and innovate, there will always be a perfect pairing for every palate.
Serving Sizes
When pairing food with cocktails, it's necessary to consider the serving sizes. Cocktails are often served in smaller portions, which means the food should be in the same amounts too. This allows the flavors of the cocktail and the dish to complement each other without one overpowering the other. Small, bite-sized appetizers work well with cocktails, as they can be shared and enjoyed in moderation. Alternatively, you can serve entrees on smaller plates, like sushi rolls and sliders, that are easy to consume with one hand while holding a cocktail in the other. Overall, when planning a menu to pair with cocktails, it's crucial to keep serving sizes in mind to ensure a harmonious balance between food and drink.
Choice of Spices
Spices can play a vital role in creating a harmonious balance of flavors when creating cocktails for food pairing. Cinnamon, ginger, and cardamom can add warmth and complexity to a cocktail like Apple Cinnamon Old-Fashioned. Others, like chili and black pepper, can add a touch of heat. When picking some spices to use in cocktails, it's essential to consider the flavors and ingredients of the food you want to pair your drink. 
For example, a cocktail with cinnamon and apple would pair well with a pork dish or a dessert featuring Cinnamon and apples. A fruity and floral drink like Gin Martini can perfectly match a light salad or seafood dish, while a spiced and savory cocktail might go well with a meat-based dish such as main courses like steaks.

By taking the time to consider the spices used in both the cocktail and the food, you can create a truly memorable dining experience that tantalizes the taste buds and leaves your guests impressed.
Cocktail pairings are a magnificent way to elevate your dining experience and explore new flavor combinations. From classic cocktails to innovative ones, there is a perfect drink for everyone! By experimenting with different pairings and discovering what works best for your taste buds, you can take your culinary journey to the next level and impress your guests with your knowledge and creativity the next time you host a luncheon or dinner gathering.
POLICIES & WARRANTY
CELLULAR CONTACT
SMS Text Message:
+1 (845) 498-1395
(cannot accept phone calls)