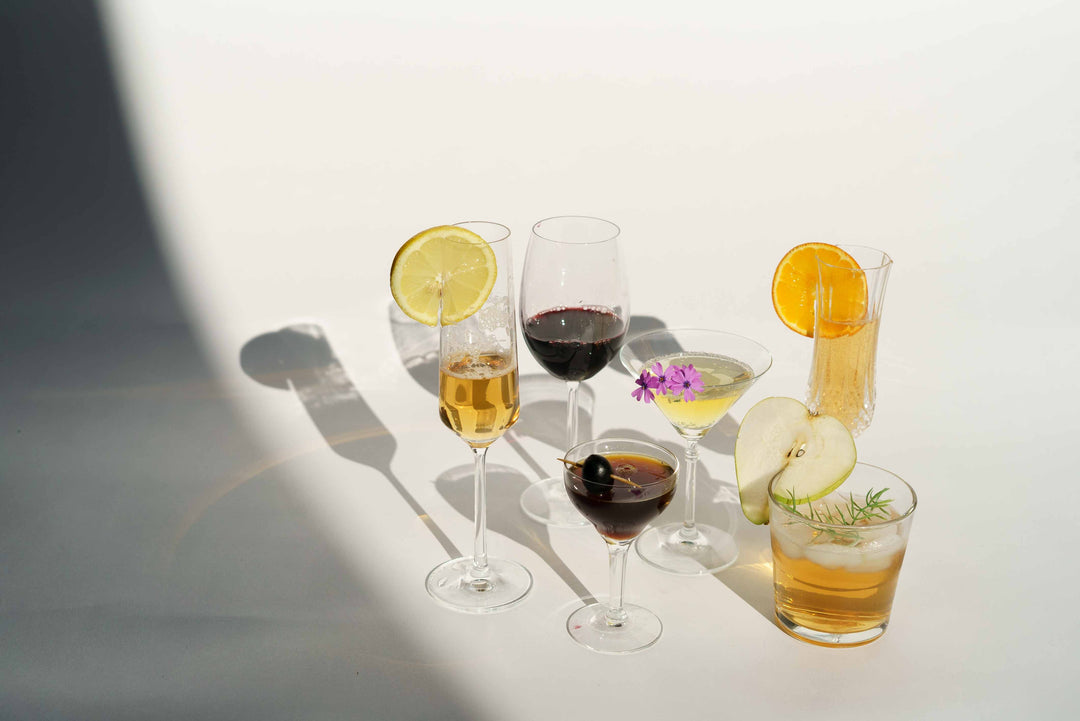 Posted on
---
You might be wondering why many glasses are used in a bar or why a drink is served in a specific glass all the time. Did you know that serving your favorite cocktail in a proper glass not only looks fantastic and affects taste too? Yes, you heard it right. Cocktail glasses are not just for show. 
They play a vital role in preserving a cocktail's flavor profile and aroma so you can enjoy every sip fresh and cold for a longer time! In this article, we will talk about some of the early days' glassware considered classic and still being used nowadays.
Cocktail and Martini Glass
A cocktail glass is an inverted rounded cone shape glass that comes in different sizes, but the classic version is small. It was invented in the 19th century and was much known in the1920 as a martini glass. History has it that it became even more popular because of how it was manufactured and designed, so convenient that it's easy to discard during surprise searches in bars. Over time, the martini glass became more distinct with its steeper cone angle and longer stem and became the official glass for the Martini drink. Its wide brim and V angle make the drink's aroma to be released openly while the stem helps in prolonging the drink's cold temperature. Some cocktails are served in Martini glasses and Cocktail glasses:
Some Martini variation you can look into:
Barski Martini - Glasses - Classic Clear
Highball Glass or Tumbler
The name 'highball' is a drink served in tall glasses or glass tumblers. Although highball glass has a lot of versions of history and origin, this glassware was known to have appeared around 1985. The popular drink's name was derived from "highballing," which indicates a train's boiler pressure when it hits maximum speed, much like how the drink is easily prepared and served quickly. The association of the drink's name and the glass became even more popular; hence the highball glass came to be. It is often used to mix and serve tall drinks and is also interchangeably used with a Collins glass which is a bit taller and narrower in form. Drinks that usually use this glass are :
Highball Glasswares: 
Volarium Highball Glasses with Heavy Base
Barski - Hiball Glass - Crystal
Lowball or Rock Glass
Known to be invented in the 16th century as a "quaich," similar to a bowl with handles on both sides, the then version was made of wood with a thick base. In the 19th century, the mass production of Rock glass began and has gained more popularity since then. Manufacturers retained the glass' solid base but developed its shape for aesthetics and functionality. Here are some drinks that are traditionally served in this glass:
Lowball or Rock glasswares:
glacio Handcrafted Whiskey Glass
GLASSIQUE CADEAU Vintage Art Deco Lowball Gatsby Cocktail Glasses
Margarita Glass
Among the many origin stories of Margarita glass, the most popular was the one where it was believed the glass got its iconic shape from Marie Antoinette's left breast, where she wanted her courts to drink out of a bosom-shaped glass as a toast to her health. The use of Margarita glass was said to have been accidental, and it wasn't until the drink itself was invented in the 20th century that the glass came to be. Since the glass resembles a coupe glass and a cocktail glass combined due to its two-bowl figure, it looks big enough to demand a higher price because of its capacity to hold more drinks. The stemmed glass's two-bowl shape helped to give extra volume to the drink, and its wide rim makes it easy to add salt or sugar. Here are some variations of Margaritas:
Frozen Sriracha-Mango Margarita
Margarita glasswares:
Copper Mug
Copper is one of the first metals used by humans. The use of copper mugs dates back to 1941 when an immigrant from Russia, Sophie Berezenski, made it to the United States, Bringing with her 2,000 pieces of copper mugs from her father's factory to sell. She met Jack Morgan, a pub owner and a friend of his who was trying on ideas to sell ginger beer and vodka. Somehow they succeeded and used cooper mugs to serve the drinks. They believed that the mug helped in enhancing the drinks' flavor profile because of the metal and keeping it cold, although this is not technically true, the copper mug is a good conductor of temperature, so if the drink you put in is cold, then it will stay cold for a while. Some drinks served in a Copper mug are:
Check these Cooper Mugs:
Copper Cure Pure Copper Hammered Mugs with Copper Straws & Wooden Coasters
Coupe Glass
Coupe glass, also known as Champagne coupe, was designed in the 17th century in England by a Benedictine monk. However, some version of its history says King Louis XVI of France created it after his wife's breast, Queen Marie Antionette. Its wide rounded rim helps contain the wine while you make a toast with someone's glass, and its long stem was designed to keep your hands from warming up the cold champagne. In the 1950s, champagne flutes began appearing, and coupe glass eventually disappeared from the scene around the '80s and '90s. Now, it's been making a comeback and is being used for champagnes and cocktails that do not require ice when serving. Here are some drinks served in a Coupe glass: 
Check these Coupe glasswares for you home bar:
Sipour Coupe Cocktail Glasses Set of 4
Wine Glass
The wine glasses used in the early days were far different from what we know today. Roman emperors and senators used to drink wine with silver and pottery goblets. Only in 500 to 600, AD did the design of a shallow cup with a thin stem emerge and was used by the upper class. In 1700 the use of glass material was widely known. Wine glasses got taller and more elegant looking. Its bowl is intended to house the sophisticated taste of wine, and its stem is fairly for the purpose of not holding the glass directly in its bowl to avoid warming up the drink since wines should be served at their correct temperature so one can appreciate its taste better. 
Here are some wine glasses you can check out:
JoyJolt Layla White Wine Glasses
Indeed, there's lots of classic glassware out there that's got class and elegance. And many hold histories that are unknown to us. What's fascinating is that people in the early days always found a way to improve their drinking experience, which we can also see and experience with their glassware inventions and why it was made for a specific purpose.
Do you know a glassware or two with an interesting origin? Please share with us in the comment section!
POLICIES & WARRANTY
CELLULAR CONTACT
SMS Text Message:
+1 (845) 498-1395
(cannot accept phone calls)